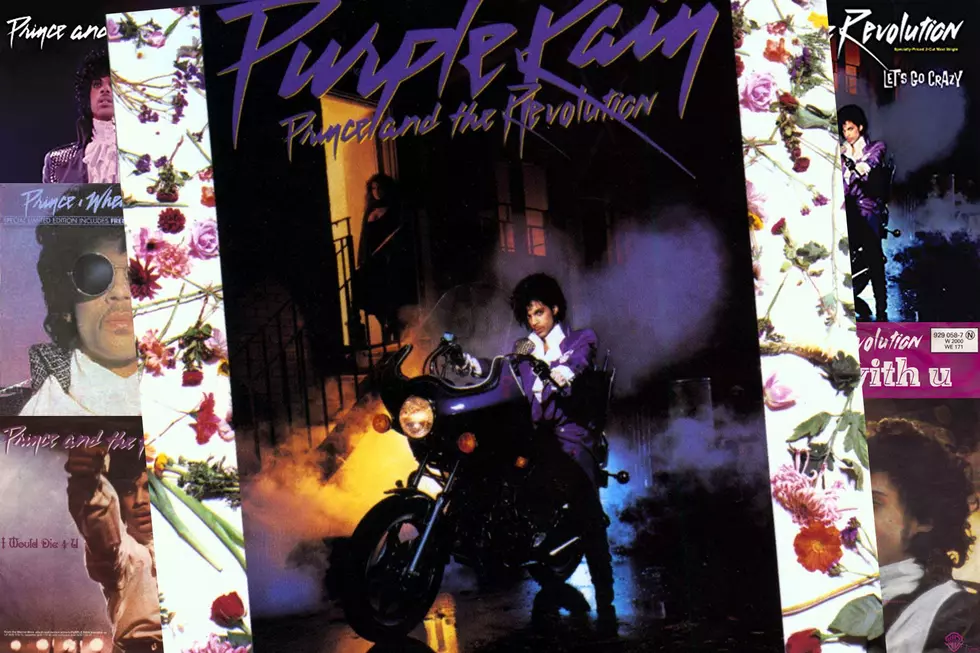 Prince's 'Purple Rain': A Guide to Every Song
Warner Bros.
Released on June 25, 1984, Purple Rain served as the soundtrack to Prince's film of the same name. It turned Prince into global superstar, spawning five Top 40 hits, including four Top 10s and two chart-toppers and sold more than 25 million copies worldwide. Below, you'll find a guide to all of its nine songs, as well as links to our longer stories on all of them.
1. "Let's Go Crazy"
For the first half-decade of Prince's recording career, the singles that had crossed over to the pop chart hadn't properly showcased all of his skills as a guitarist. But that all changed with "Let's Go Crazy," which opened booth the Purple Rain album and movie. From the distorted chords punctuating each line to the lean, muscular middle solo to the Jimi Hendrix-inspired wah-wah pedal outro, Prince gave the world his heaviest dose of rock guitar to date.
"When that guitar solo at the end of 'Let's Go Crazy' hit, that could have been the first take," Revolution drummer Bobby Z. told us. "That Vegas ending, and that guitar solo, I can only remember one or two takes. He nailed the guitar solo, and we nailed the ending, and that was done. With Prince, it was just done and you went on to the next thing."
READ MORE: When Prince Plugged In for "Let's Go Crazy," Amazing Both Fans and Bandmates
2. "Take Me With U"
Prince had originally fashioned "Take Me With U" as a duet with Apollonia Kotero for Apollonia 6's debut. But there were a couple of issues. For starters, Apollonia was an actress, not a singer, so Jill Jones and Revolution keyboardist Lisa Coleman were roped in to provide support. Then, Purple Rain director Albert Magnoli brought up the idea of having a duet between the two in the movie, since Kotero was co-starring as Prince's love interest. Prince pulled the song out from under Apollonia 6, and it was the last song to make the soundtrack.
READ MORE: How Prince Took "Take Me With U" Back
3. "The Beautiful Ones"
Although it has been widely believed that "The Beautiful Ones" was written about girlfriend Susannah Melvoin, Prince said in 2015 that it was about Denise "Vanity" Matthews, who had been slated to be in Purple Rain, but left before production started. He pointed out that the lyrics were inspired both by the film's love triangle between Prince, Morris Day and Apollonia (who replaced Vanity) and her departure from Prince's world.
READ MORE: Prince's Girlfriend Inspires "The Beautiful Ones," but Which One?
4. "Computer Blue"
At one point, "Computer Blue" was 14 minutes long, but when "Take Me With U" was added to the soundtrack, Prince had to edit it down, eventually taking 10 minutes out of it, including a spoken-word section, although a 12-minute take was included on the 2017 expanded reissue of the soundtrack. The song's bridge was based off a piece of music written by Prince's father, John L. Nelson, that his movie father, Clarence Williams III, plays in Purple Rain.
READ MORE: Pressed for Space, Prince Takes a Scalpel to the Epic "Computer Blue"
5. "Darling Nikki"
Although it was never released as a single, "Darling Nikki" became one of the most infamous songs in Prince's catalog a year after its release when Tipper Gore, the wife of U.S. Senator Albert Gore, took exception to the lyrics when she heard it through her pre-teen daughter. Tipper founded the Parents Music Resource Center, a collection of influential Washington, D.C.-based wives who were concerned with the impact of sexually explicit lyrics. Senate hearings followed to determine whether a ratings system should be imposed on music the way they are on films. Eventually the industry settled on a sticker on the cover that potentially warned parents of the content within.
READ MORE: Prince's "Darling Nikki" Almost Leads to the Downfall of Society
6. "When Doves Cry"
The lead single from Purple Rain, "When Doves Cry" also became Prince's first single to top the Billboard Hot 100, staying there for five weeks. And it became a hit without a single note of bass. Although the multi-track tape of "When Doves Cry" has Prince's playing bass, he said in 1999 that he removed it from the final mix because it "was just sounding too conventional." However, Revolution bassist Brownmark feared for his job when he heard it, telling us, "I was like, 'What does this mean? You getting rid of me, dude?'"
READ MORE: Prince Practices Addition by Subtraction on "When Doves Cry"
7. "I Would Die 4 U"
If "Darling Nikki" was Purple Rain's most blatant expression of the profane, "I Would Die 4 U" was where he brought in the sacred. In each verse, he sings in the voice of a different part of the Holy Trinity: The Father ("And if you're evil I'll forgive you by and by"), the Son ("I'm your messiah, and you're the reason why") and the Holy Spirit ("I am a dove / I'm your conscience").
READ MORE: Prince Fully Inhabits the Holy Trinity on "I Would Die 4 U"
8. "Baby, I'm a Star"
In the film, "Baby, I'm a Star" reflected the swagger and ambition of The Kid (Prince). It's the best example in the soundtrack of Prince's art imitating his life. Although Prince already was a star by the time the song was recorded in August 1983 thanks to 1999, it was written in 1981, when Prince was working on Controversy. Prince and the Revolution memorably performed "Baby, I'm a Star" at the 1985 Grammy Awards, bringing many members of the audience up onto the stage with him.
READ MORE: Prince Predicts His Own Bright Future in "Baby, I'm a Star"
9. "Purple Rain"
When Prince wrote "Purple Rain" for the climax of his movie, he thought the chords were too similar to Journey's 1983 hit ballad "Faithfully." So he contacted keyboardist Jonathan Cain, who wrote the track, to see if there were any conflicts. "I thought it was an amazing tune," Cain said, "and I told him, 'Man, I'm just super-flattered that you even called. It shows you're that classy of a guy. Good luck with the song. I know it's gonna be a hit.'"
READ MORE: Prince Left Behind a World Bathed in "Purple Rain"
More From Ultimate Prince