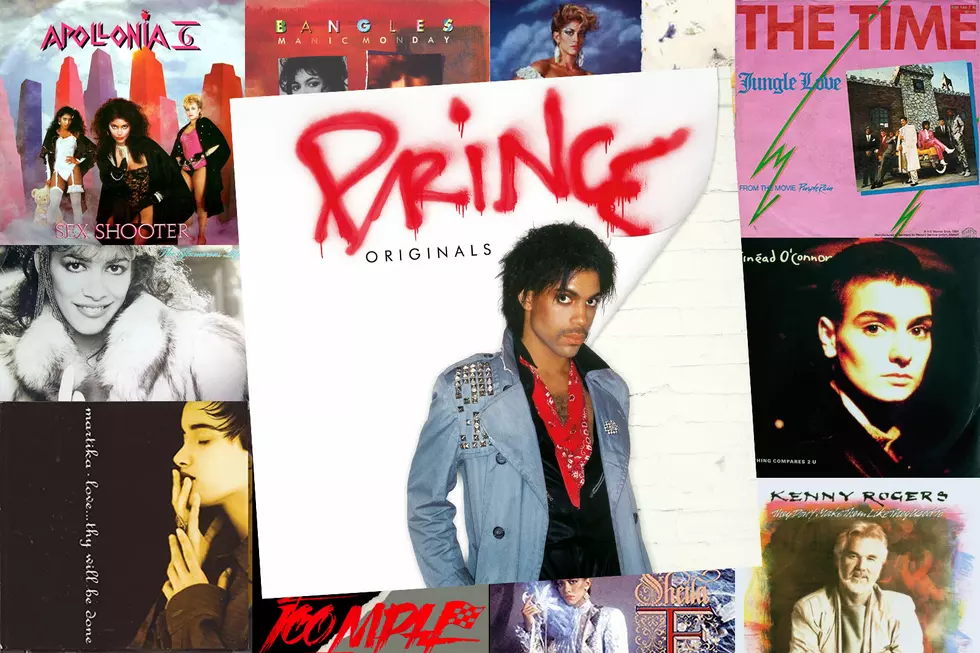 Prince's 'Originals': A Guide to Every Song
Warner Bros. / Columbia / Sony / RCA / Chrysalis
Originals contains versions of 15 songs that Prince gave to other artists, including Sheila E., the Time, Vanity 6, the Bangles and even Kenny Rogers. We're taking an in-depth look at each of the tracks, all but one of which stem from an incredibly prolific time between 1982-88. And, in eight of the cases, you'll find links to longer stories about them:
1. "Sex Shooter"
Prince originally wrote and recorded "Sex Shooter" for Vanity 6, with plans to feature the song on their second album and in the Purple Rain movie. Then lead singer Denise "Vanity" Matthews left the Prince fold around the time that the film began production. She was replaced by Apollonia Kotero, who got the role intended for Matthews. Vanity 6 was quickly renamed Apollonia 6, and "Sex Shooter" became the debut single for the new group. Released in August 1984, it couldn't match the success of contemporary singles by Prince and the Time, peaking at No. 85. Prince Vault says it's unknown if Matthews ever recorded vocals for the song.
2. "Jungle Love"
The Time had established themselves with four Top 40 R&B hits by 1984, but they'd barely dented the pop chart. That changed with the prominent placement of "Jungle Love" in in Purple Rain: The band performed it immediately after Prince opened the film with "Let's Go Crazy." "Jungle Love" reached No. 20 on the Billboard Hot 100; only 1990's "Jerk Out" placed higher in their career. Jesse Johnson, who played the guitar solo, co-wrote "Jungle Love" with Morris Day and Prince, but Johnson's songwriting credit was removed after he left the Time.
READ MORE: The Time Finally Get Their Due With Glorious 'Jungle Love'
3. "Manic Monday"
Prince initially planned for "Manic Monday" – which he wrote under the pseudonym Christopher – to be a duet for inclusion on Apollonia 6's album, but he changed his mind and instead gave it to the Bangles. This became the lead single from their breakthrough album Different Light. Prince had discovered the Bangles through his interest in the Paisley Underground, a group of Los Angeles bands who were putting an '80s spin on '60s psychedelic pop. Around the World in a Day was heavily influenced by that sound, and and it's believed that the Paisley Underground inspired him to name one of its songs "Paisley Park." He'd later use the same name for his home, studio and label, to which he would sign another Paisley Underground band, the Three O'Clock. They recorded his "Neon Telephone."
READ MORE: Prince Gifts the Bangles a Hit With 'Manic Monday'
4. "Noon Rendezvous"
The ballad "Noon Rendezvous" served as the third single from Sheila E.'s debut album The Glamorous Life. Unfortunately, it failed to chart, much less match the Top 40 success of the record's first two singles, "The Glamorous Life" (see below) and "The Belle of St. Mark." This is the only song on the LP that the former Sheila Escovedo actually co-wrote, according to Prince Vault, despite having been originally credited as sole composer for all of the material.
5. "Make-Up"
Another song from Vanity 6, although Susan Moonsie takes over lead vocals from Matthews. Prince wrote and recorded the song during his first attempt at creating a girl group called the Hookers. (Moonsie, his then-girlfriend, was featured along with Jamie Shoop and Brenda Bennett.) After meeting Matthews, however, Prince replaced Shoop, installing Matthews as the new lead singer. "Make-Up" was the b-side to "He's So Dull."
6. "100 MPH"
Revolution bassist Brownmark was an earlier member of Mazarati, a funk band on the Minneapolis scene that featured two of his classmates. Then Prince got involved, signing them to Paisley Park and shaping Mazarati in his vision. He also gave the group "100 MPH," which wouldn't have sounded out of place on a Time album. Later, Prince offered Mazarati another song he wrote on the spot, "Kiss," but the band refused.
READ MORE: Prince Builds a Mazarati, Hits '100 MPH'
7. "You're My Love"
Prince pulled out another pseudonym when country star Kenny Rogers asked him for a song, plucking the "Joey Coco"-composed "You're My Love" from his vault. It found a home on 1986's They Don't Make Them Like They Used To, but the album only reached No. 16 on the Billboard county chart, making the first time since 1976 that Rogers had failed to place an LP in the Top 10.
READ MORE: When Prince Wrote a Song for Kenny Rogers
8. "Holly Rock"
Sheila E. decided to make a jump to the silver screen after scoring a pair of hit records, starring as herself in 1985's Krush Groove. The film, one of the first with a hip-hop theme, was based on the beginnings of Russell Simmons and Def Jam recordings. Prince gave Sheila E. "Holly Rock" for the soundtrack, although the previously released "A Love Bizarre" also appeared in the movie. "Holly Rock" was released as a single, but it did not chart.
READ MORE: Sheila E. Leaves Minneapolis to Make It Big in 'Holly Rock'
9. "Baby, You're a Trip"
Prince recorded the slow jam "Baby, You're a Trip" in 1982 during the sessions for 1999, but left it unreleased until 1986, when he was working on the debut by his former backup singer Jill Jones. Updated only with her lead vocals and a string arrangement by Clare Fischer, "Baby, You're a Trip" became the b-side to "For Love." Jones' self-titled record also featured performances by the Revolution, the Family and Billy Idol guitarist Steve Stevens.
10. "The Glamorous Life"
By the time Sheila E. entered Prince's world, she already had years of recording and touring to her credit as a percussionist with stars like Marvin Gaye, Lionel Richie, Diana Ross and jazz keyboardist George Duke. But she still needed a hit. Enter Prince, who'd originally written "The Glamorous Life" for Apollonia 6 before giving it to Sheila E. for her debut. She put her own vocals and percussion on top of Prince's track and it was released as her debut single in the spring of 1984, around the same time as "When Doves Cry." "The Glamorous Life" became her biggest hit, peaking at No. 7 on the Hot 100 while topping the dance chart.
READ MORE: How Prince Helped Launch Sheila E.'s Career With 'The Glamorous Life'
11. "Gigolos Get Lonely Too"
As we've seen with many of the other songs on Originals, Prince often gave songs he had lying around to other artists, or wrote them for one act, only to change his mind and give them to another. But with a title like "Gigolos Get Lonely Too," Prince undoubtedly only intended it to go to the Time. A ballad where the protagonist attempts to pick up a woman by saying that he's looking for something more real than he usually gets, the track was the third single from the Time's sophomore effort, What Time Is It? "Gigolos Get Lonely Too" was the lowest-charting song of the band's career, however, peaking at No. 77 at R&B.
12. "Love ... Thy Will Be Done"
After breaking through with "Toy Soldiers" from her debut, Martika asked Prince about working together for the follow-up and he agreed. He went through her notebook of lyrics and found four songs that caught his fancy, including "Love ... Thy Will Be Done." He sent her some lyrical changes and a cassette with the music, and she recorded them in Los Angeles. All of the Prince collaborations were released as singles from 1991's Martika's Kitchen, but "Love ... Thy Will Be Done" was the only one to have any chart success, reaching No. 10 in the U.S. and No. 1 in Australia.
READ MORE: Prince and Martika Keep the Faith Strong on "Love ... Thy Will Be Done"
13. "Dear Michaelangelo"
Prince again wrote everything for Sheila E.'s second album Romance 1600, just as he had done with The Glamorous Life. "Dear Michaelangelo," the second song on the record, is about woman in Florence, Italy, who has become obsessed with the artist's work and sees him as her ultimate man.
14. "Wouldn't You Love to Love Me?"
The oldest song on Originals, "Wouldn't You Love to Love Me?" dates back to 1976. Prince returned to it several times over the next six years, but the track never found a home on one of his LPs. Then, in 1986, Prince and Michael Jackson began discussing a guest appearance on title track to Jackson's upcoming record Bad. When that fell through, according to Prince Vault, Prince finished up "Wouldn't You Love to Love Me?" and sent it to Jackson's producer Quincy Jones for inclusion. It was ultimately refused, at which point Prince gave it to Taja Sevelle, a Paisley Park artist who sang backup on Around the World in a Day's "The Ladder." "Wouldn't You Love to Love Me?" peaked at No. 61 on the R&B chart in 1988.
15. "Nothing Compares 2 U"
Arguably the most beloved Prince's composition recorded by another artist, "Nothing Compares 2 U" was originally recorded by the Family, a side project built around Susannah Melvoin, his girlfriend and the twin sister of Revolution guitarist Wendy. Their 1985 self-titled record didn't get much traction commercially, but Sinead O'Connor heard it, then decided to cover "Nothing Compares 2 U" for her sophomore effort, I Do Not Want What I Haven't Got. It became a No. 1 hit in 1990, and was the third-most popular song of the year.
Radio stations across the U.S. broadcast "Nothing Compares 2 U" as a tribute to Prince at 5:07 Central on May 4, 2016. The Current, a public radio station in Prince's hometown of Minneapolis, suggested this simulcast because it had been "seven hours and 13 days" – the original opening lyric – since he died.
READ MORE: 'Nothing Compares 2 U' Takes a Long, Strange Road to Immortality
Prince Albums Ranked
More From Ultimate Prince