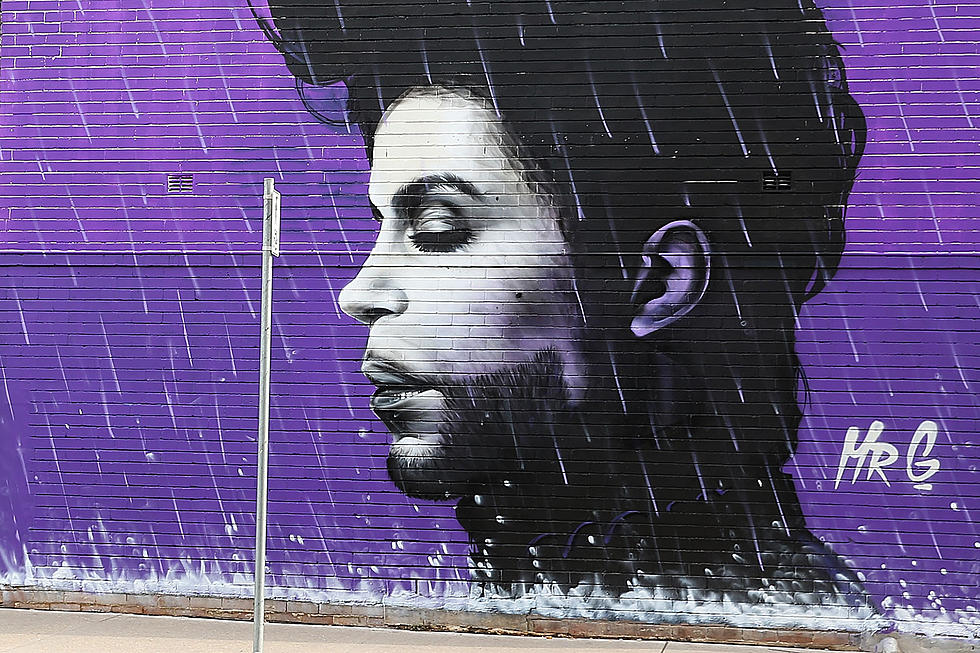 Prince Left Behind a World Bathed in 'Purple Rain'
Brendon Thorne, Getty Images
When we were suddenly forced to say goodbye to Prince in April of 2016, there was little doubt as to which of his songs would be used as the soundtrack to the world's mourning.
As you can see through the numerous images and videos below, upon hearing of Prince's death on April 21, 2016 cities around the world lit up their most prominent buildings and landmarks with purple light in tribute. Over the coming days and weeks, famous artists from a wide range of popular music genres – including Bruce Springsteen, Stevie Wonder and Santana – dedicated their own performances of "Purple Rain" to the fallen star.
Exactly how did this song, among the hundreds he released and probably thousands he recorded, become his defining anthem? Well, being the title track for the movie and soundtrack that catapulted him to super-stardom was obviously a big help. And while this may be odd to say about a song whose protagonist seems to be lamenting his role in a romantic breakup right in the midst of the actual end of the world, it was also the most relatable of his blockbuster-era singles.
After all, he wasn't joyously celebrating the apocalypse as in "1999," bragging about getting into somebody's "Little Red Corvette" or offering a rather shocking glimpse into troubling family dynamics as he did on the extremely exotic-sounding "When Doves Cry." At the start of "Purple Rain," Prince is vulnerable and very much living in the real world – and he's strumming chords you wouldn't be surprised to hear from more straight-ahead rock acts such as U2, Springsteen or Pearl Jam.
Hear Prince Perform 'Purple Rain'
"When there's blood in the sky – red and blue equals purple. 'Purple Rain' pertains to the end of the world and being with the one you love and letting your faith / God guide you," Prince said when asked to explain the imagery. His heavy reliance on the color in his stage wear and albums, which dated back to the covers, music videos and tours for 1981's Controversy and 1982's 1999, gave people another way to easily identify and distinguish the still-rising Prince from his peers, a strategy Jack White would adroitly emulate years later.
Much as Johnny Cash was known as the "Man in Black" and Sammy Hagar got nicknamed the "Red Rocker," Prince became "The Purple One." Once the gimmick had served its purpose, the ever-restless artist quickly abandoned that palette, switching to a cloud-filled blue suit for 1985's "Raspberry Beret" video, a completely colorless theme for 1986's Parade (including, to his studio's horror, insisting on filming his Purple Rain follow-up Under the Cherry Moon in black and white), peach and black for Sign O the Times, and so on.
But the nickname and color association stuck, as "Purple Rain" became the de rigueur centerpiece of Prince's concerts for the rest of his life. He reportedly performed the track 250 more times than his next most popular song ("Kiss") over his career. The song's gorgeous extended outro, which finds him wordlessly cooing in his own unique "Hey Jude" fade-out style while also delivering his most famous guitar refrain, is one of rock's music all-time cigarette-lighter moments.
Prince's passionate live performance of "Purple Rain" during an actual rainstorm at the 2007 Super Bowl further cemented both his and the song's place in our culture and, as one-third of a solo-piano medley, it was the last thing he played at his final concert. He also acknowledged the color's continued importance to his image rather humorously in 2010, declaring himself "the Purple Yoda" in the lyrics to "Laydown."
While he was admirably loath to repeat himself creatively, when Prince felt the need to completely re-start his career under a new name in the mid-'90s, one of the first things he did was to write an attempted successor to "Purple Rain," complete with its own color scheme, goosebump-inducing guitar solo and hypnotic "na na na na na na" fade out: "Gold" was pretty gosh-darn undeniably great but, when it author reclaimed his original name, the song was also very obviously redundant. It popped up in the occasional setlist but, for the most part, big brother "Purple Rain" reclaimed its rightful place in the world.
It seems Prince had an early sense of just how important "Purple Rain" would turn out to be, as he asked first for help and then for a blessing from two of classic rock's biggest stars during its creation. Concerned that his chord changes might be too close to Journey's 1983 hit "Faithfully," Prince reached out to make sure that track's author, keyboardist Jonathan Cain, wouldn't be offended (or litigious). "I thought it was an amazing tune," Cain said, "and I told him, 'Man, I'm just super-flattered that you even called. It shows you're that classy of a guy. Good luck with the song. I know it's gonna be a hit.'"
Prior to that, he reportedly offered Fleetwood Mac star Stevie Nicks the chance to write the lyrics for an early instrumental version of the song. "It was so overwhelming, that 10-minute track, that I listened to it and I just got scared," Nicks remembered. "I called him back and said, 'I can't do it. I wish I could. It's too much for me.' I'm so glad that I didn't."
Watch Santana Perform 'Purple Rain'

Watch Jennifer Hudson Perform 'Purple Rain'

Hear Dwight Yoakam Perform 'Purple Rain'

Bruce Springsteen Performs 'Purple Rain'

Stevie Wonder Performs 'Purple Rain'

Watch Jimmy Buffett Perform 'Purple Rain'

Watch Old Crow Medicine Show Perform 'Purple Rain'

Watch Sufjan Stevens & Gallant Perform 'Purple Rain'

Watch Mavis Staples Perform 'Purple Rain'

Watch Dream Theater's Jordan Rudess Perform 'Purple Rain'

Watch Minnesota House of Representatives's Tribute to Prince

Watch Pearl Jam Perform 'Purple Rain'

Watch Jeff Beck and Beth Hart Perform 'Purple Rain'

Target Field - Minneapolis, Minn.
I35W Bridge - Minneapolis, Minn.
Niagara Falls, Canada (an honor he shared with the Queen)
The Capital Wheel - National Harbor, Md.
City Hall - Los Angeles, Calif.
The Forum - Inglewood, Calif.
City Hall - San Francisco, Calif.
City Hall - Baltimore, Md.
Terminal Tower - Cleveland, Ohio
The Orlando Eye - Orlando, Fla.
The U.S. Grant Hotel - San Diego, Calif.
U.S. Bank Tower - Los Angeles, Calif.
Lowry Avenue Bridge - Minneapolis, Minn.
Burns Bridge - Worcester/Shrewsbury, Mass.
Hi-Level Bridge, Pittsburgh Waterfront - Pittsburgh, Pa.
RJ Corman Bridge - Clarksville, Tenn.
Zakim Bridge - Boston, Mass.
Mercedes Benz Superdome - New Orleans, La.
Chicago Skyline - Chicago, Ill.
Eiffel Tower - Paris, France
High Roller - Las Vegas, Nev.
Dallas, Texas
Borough Hall - Brooklyn, N.Y.
Great Wheel - Seattle, Wash.
Prince Magazine Cover Tributes From Around the World
More From Ultimate Prince