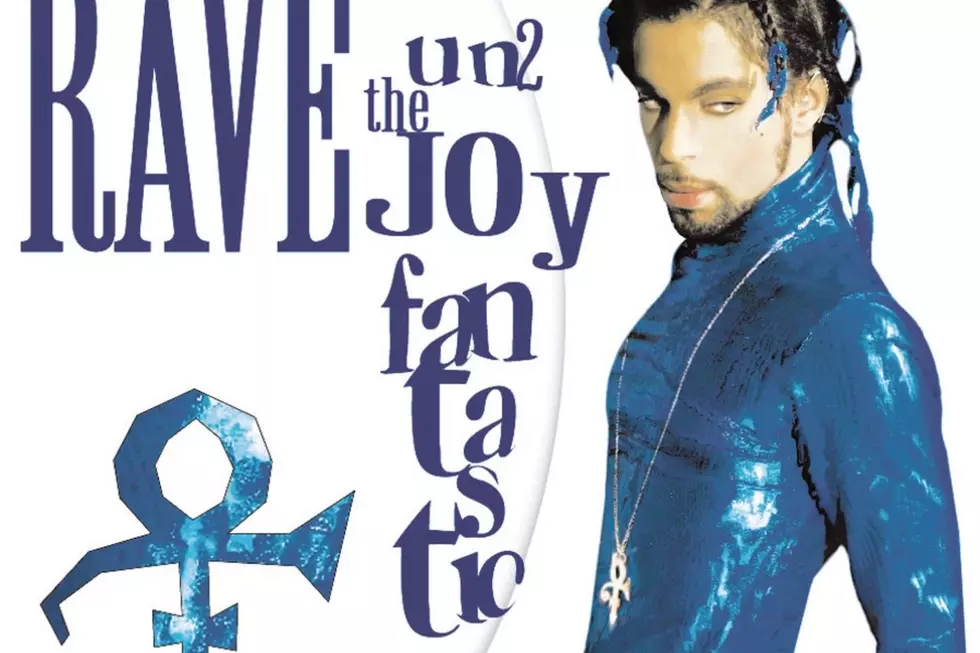 20 Years Ago: Prince Tries For Santana-Like Success With 'Rave Un2 the Joy Fantastic'
Arista
On one level, Rave Un2 the Joy Fantastic was a throwback Prince album.
He recorded the backing tracks all alone. "Prince" was credited on the album, despite the fact that he still preferred to be called by an unpronounceable symbol. He was on a major label again, after years of selling his work via the web and direct mail.
But there was something different, something that made this album unlike any from his classic era: Clive Davis. And that changed everything.
They actually began with a now-familiar agreement: Prince shook hands on a non-exclusive one-album deal, similar to the arrangement with EMI that produced 1996's Emancipation – his most recent major-label release. As with every record following his departure from Warner Bros., Prince now kept a tight grip on his original masters.
He'd gotten another stinging reminder of why this was so important less than three months before, with the arrival of his old label's latest archival project, titled The Vault: Old Friends 4 Sale. Prince told Reuters in 1999 that he asked Davis, "How many are we releasing? How many will we sell? And, by the way, Clive, I own this."
Then Davis, a golden-touch chief executive whose label then boasted a stable of stars including the Grateful Dead, Patti Smith and Carlos Santana, introduced something entirely unique to the Prince catalog: Davis would surround his new signee with a galaxy of special guest stars, hoping to replicate Santana's sweeping chart success with Supernatural.
For Prince, that meant collaborations with pop singers like No Doubt's Gwen Stefani ("So Far, So Pleased") and Sheryl Crow, outsider folk artist Ani DiFranco ("Eye Love U, but Eye Don't Trust U Anymore"), and rappers Public Enemy's Chuck D ("Undisputed") and Eve ("Hot Wit U").
"Mr. Davis has allowed me to put something through his pipeline and still maintain my freedom," the artist then formerly known as Prince told Rolling Stone in 1999. "So, I'm cool with that."
Davis' only issue appeared to be just what to call his latest star. "It's like when you get married," Davis joked in a 2000 interview with Vanity Fair. "You can't call your father-in-law 'Dad.' It's awkward. So, you run around looking for substitutions and end up saying 'Hi.'"
Prince got to work on the music, in sessions that lasted from June 1998 through mid-September 1999. He hadn't created like this since the early '80s.
"For a long time, I didn't use the sounds or the instruments from those records because everybody was sounding like that," Prince told the Philadelphia Inquirer in 1999. "People would come to the studio asking my engineer to give them Prince's sounds, just like everybody wants Timbaland's drums now."
Prince started by digging out a Linn LM-1, the drum machine which had been such a huge part of his rise to fame. He played more guitar – a lot more.
"I just thought it would be interesting to show that genesis, to make the album sound like Prince again," he told Pulse Magazine in 2000. "So, I went down and blew the dust off all the old instruments."
He ended up giving production credit to "Prince" rather than his then-ubiquitous glyph. "I can sound like Prince should sound in 1999, now that everyone's gone the other way," Prince told Keyboard magazine in 1999. "I always wondered what he'd sound like now."
What he discovered, he told the Inquirer, was that was Prince is still "a really good editor, a good decision maker. He was always stubborn about getting the sounds." Working in a comfortably familiar environment, "stuff started locking like the old stuff locked. It became effortless."
Prince tried some interesting things, on what might be his most guitar-focused recording. He ran his instrument through a flanger on "So Far, So Pleased." He returned to Chuck Berry's clean sound on "Baby Knows."
The title track, which had origins dating back to July 1988, became a moment of "guitar madness. ... It has two guitars going through Leslies," Prince told Guitar Player in 2000. "One was the Auerswald [the custom instrument shaped like his unpronounceable name]. It's made of one piece of wood, and doesn't have much guts — but if you crank it, it sounds like a car is running over it!"
He rounded out the backing tracks with another retro element: Orchestral arrangements by Clare Fischer. Prince had worked extensively with the Los Angeles-based jazz pianist in the '80s too, though they were never in the same room together. "At this point," Prince told Keyboard magazine, "I wouldn't want to jinx it by meeting him. His arrangements are incredible. I just send him a tape, we talk on the phone, and he sends me the finished orchestra tracks."
Despite all of that, Prince admitted that he was intrigued by Davis' new all-inclusive concept. He actually connected on a deeper level, after opening up later sessions to these famous strangers.
"I wanted to reflect on everything I've done," Prince told MTV in 1999. But he also "wanted to meet people and see if I could jam with them."
He ended up joining Sheryl Crow on stage at Lilith Fair just before his cover of "Everyday in a Winding Road" and a duet with her on "Baby Knows" was released on Rave Un2 the Joy Fantastic. A hidden track called "Prettyman" featured the first of what would become many guest turns by James Brown and P-Funk saxophonist Maceo Parker.
Prince placed a drawing by DiFranco in a prominent place in the control room where this project was completed, while letting her independently explore "Eye Love U, but Eye Don't Trust U Anymore." "I showed her the chords to the song, but I didn't tell her how it actually went," Prince told Guitar Player in 2000. "If I'd told her too much, then silence wouldn't have been one of the sounds."
Yet, somehow, something was missing. "The Greatest Romance Ever Sold," the lead single, tried just a little too hard to be a mainstream hit. Elsewhere, there were times when Prince risked coming off like a sideman – and not every juxtaposition works, occasionally giving the album a marketing-ploy feel. ("The Sun, the Moon and Stars" and "Tangerine," two of the album's very best songs, basically feature Prince all by himself.) More than that, this all-star concept had already been very famously executed, and on the same label.
In keeping, Rave Un2 the Joy Fantastic didn't reach Santana-like levels of success, rising to a respectable No. 18 on the Billboard 200 before fading. Prince never toured the record, instead appearing on various television programs, one-off live shows and a pay-per-view special called Rave Un2 the Year 2000.
Along the way, Prince tried remixing the project, but 2001's Rave In2 the Joy Fantastic didn't even chart. He'd ultimately return to a more intimate group of collaborators for the 2001 independent release The Rainbow Children.
Ranking Every Prince Album
More From Ultimate Prince