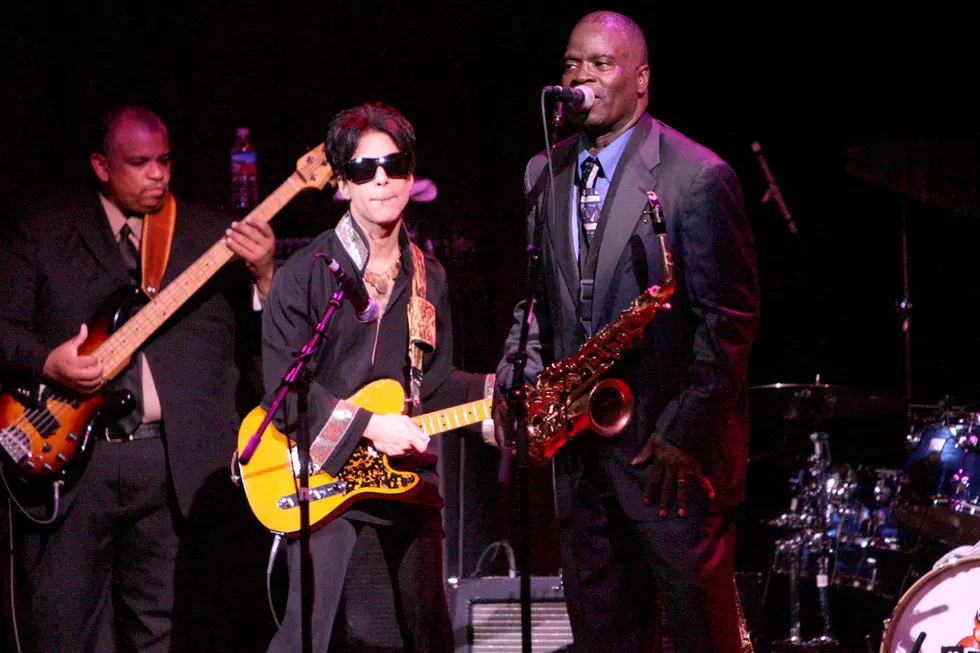 When Prince Recruited Maceo Parker for 'Prettyman'
FilmMagic, Getty Images
For Prince, individuality and inheritance were never at odds. His ever-evolving musical identity never eclipsed nor retreated behind his influences, nor did it stop him from hunting them down for recruitment. "Walk Don't Walk," for example, beamed with a Sly and the Family Stone glint mere years before Prince was producing Family Stone bassist Larry Graham's 1999 solo effort GCS2000, subsequently enlisting him for worldwide tours and helping Prince to become a Jehovah's Witness.
The same year as GCS2000 came Prince's Rave Un2 the Joy Fantastic, an unabashed pop radio nudge, which, under the auspices of industry exec Clive Davis, was graced with guests such as Gwen Stefani, Sheryl Crow and rapper Eve strewn across a sprawling 17 tracks. But then comes the 18th track—an album-closing hidden song that breaks from Rave's posh pose and rips into a tight burst of funk that swings in the spirit of James Brown.
That bonus song was "Prettyman" and, as luck would have it, featured legendary saxophonist Maceo Parker from Brown's infallibly air-tight backing band the J.B.'s.
Hear Prince and Maceo Parker Perform "Prettyman"
"James Brown played a big influence on my style" Prince told MTV in 1985, in his first interview with the network. Witnessing Brown in performance at an early age, Prince recalled, "when I was about 10 years old my stepdad put me on the stage with him and I danced a little bit until the bodyguard took me off." Also, never one to let age obscure life's finer things, he added, "I'd seen some of the finest dancing girls I'd ever seen in my life."
"He influenced me by his control over his group and his dancing girls," the artist offered, revealing the genesis of the Prince credo in a manner almost too perfectly diabolical. "His apples and his oranges."
"Control"—creatively as well as professionally—by the time of Rave and "Prettyman," had already long become a defining feature of the Prince mythos. So when Parker, who had also been a member of George Clinton's Funkadelic operation since Mothership Connection, found himself at work in Prince's hit laboratory, compatibility was more than just a given—for Prince, it had been decades in the making.
Prince honored Parker's tutelage by often endearingly addressing him as "The Teacher." The admiration was mutual. "I always called him a sweetheart and a genius," Parker reminisced to Style Weekly after his friend's tragic death in 2016. The saxophonist had told Mercury News years earlier that his work with Prince ranks among his most cherished career points, saying, "my relationship with Prince stands as No. 1." The '00s would see Parker as a frequent fixture in Prince's live band.
It's true, Rave didn't attain the level of commerciality Clive Davis had wished, and nor is it likely to appear in deliberations over the late artist's creative triumphs. But the discreet "Prettyman" stands as the album's powerful coup de grâce, shored up by Prince's brimming love for an idol—and the intimate company of another.
More From Ultimate Prince