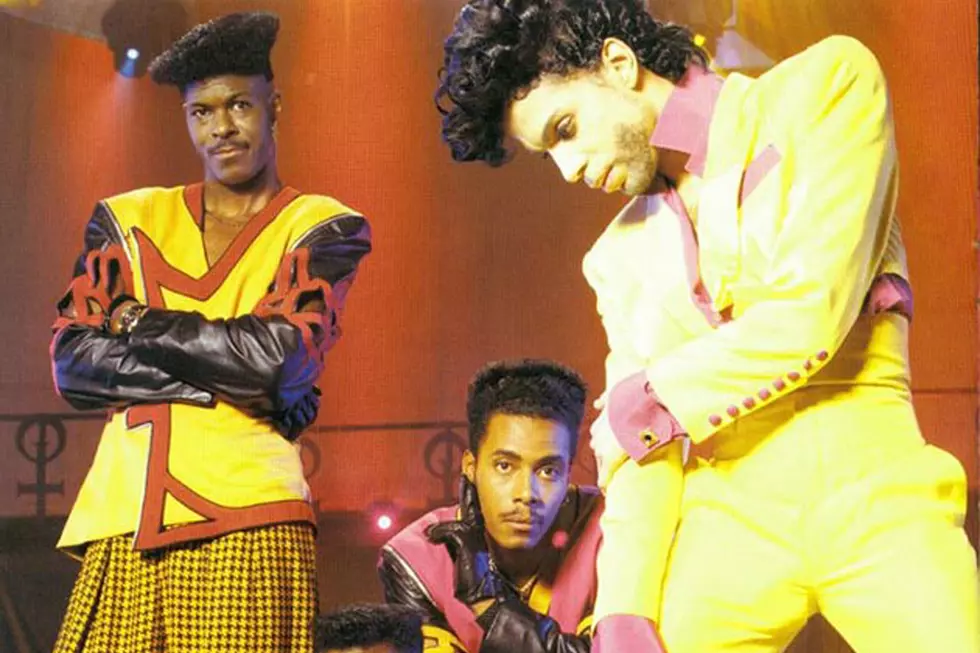 By Deleting 'Guess Who's Knockin,' Prince Creates a Gold Rush
NPG
"Guess Who's Knockin'" was a forgettable song from an insignificant Prince album -- until the day it disappeared, that is.
Now both the song and the original pressing of that album are among the most highly sought after Prince collectables. "Guess Who's Knockin'" originally appeared as the second track on Gold N---a, the first album credited solely to the Prince's backing band, the New Power Generation.
After Warner Bros. passed on releasing Gold N---a, Prince self-pressed an initial run of CDs and sold them at select tour stops and NPG retail outlets. "Guess Who's Knockin'" riffs off the lyrics to one of Paul McCartney's most popular Wings-era songs, "Let 'Em In." It is unknown if McCartney's legal counsel made moves to block the song's wider release or if Prince decided its inclusion only complicated the royalty situation for the first record he was releasing without the protections and resources of a major record label. The song was deleted from all subsequent pressings of the album.
By the early '90s, hip-hop was snowballing in popularity to become the dominant force in both music and culture that is today. Gold N---a was perceived by many to be both a blatant and desperate attempt at street cred by Prince, a mainstream pop artist who initially dismissed the rap genre.
Gold N---a also represents the ascension of rapper Tony M. (Anthony Mosley); the album is primarily a celebration of his exploits. Mosley's roots with Prince date all the way back to the film Purple Rain, where he appeared as a dancer alongside future NPG'ers Kirk Johnson and Damon Dickson. As Matt Thorne describes in his book, Prince: The Man and His Music, "While Prince seemed threatened by rap during the first half of hip-hop's golden age, by 1990 he started to see a way through." Thorne details how Mosley began to rap during sound checks and rehearsals and was soon incorporated into the group. As Mosley became more and more prominently featured on the Diamonds and Pearls and Love Symbol albums, many fans bemoaned that Prince was now chasing musical styles instead of innovating. With Gold N---a, the former film extra took center stage while the superstar performed in the shadows.
Hear the New Power Generation Perform "Guess Who's Knockin'"
The title of the album appears to be a play on the term "gold digger," but author Jason Draper notes in his book, Prince: Life and Times (Revised and Updated Edition), that on the album "a 'gold n---a' is a black man who earns his money through 'knowledge and creative efforts.'" Thorne notes that during 1993's Act 1 tour, Prince "spent much of the show waving a cane as well, in his own take on hip-hop accessorizing. Prince would refer to himself as a 'n---a' on stage." Several songs from the Gold N---a album were performed during the set.
Mosley was long gone by the time the NPG's second album, Exodus, was released. Lead rapping duties were assumed by bassist Sonny T. as the non-charting album took a decidedly more funk turn. Prince assumed lead vocals on the NPG's third and final record, Newpower Soul. With Prince on the cover, the more traditional Prince-sounding record would sell more than 500,000 copies.
Despite sidestepping a royalty dispute with rock royalty on Gold N---a, Prince's love for the Beatles continued to flourish. "Come Together" was a staple in his live sets for a long time and his guitar solo on "While My Guitar Gently Weeps" is a Rock and Roll Hall of Fame induction ceremony classic.
More From Ultimate Prince