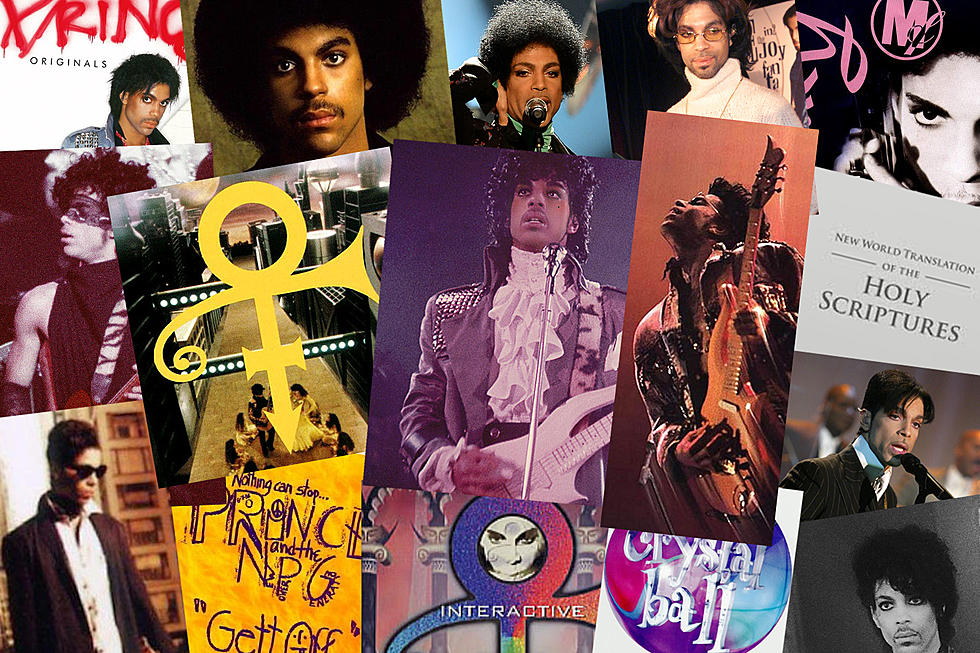 Prince's Birthday Celebrations: Singles, Concerts and a Name Change
Getty Images / Warner Bros. / The Prince Estate / Cineplex Odeon Films / NPG / Compton's New Media / Watchtower Bible And Tract Society
Whether unintentional or by design, many signature moments in Prince's career fell on June 7, his birthday. This ranges from the release of songs to his name change to numerous concerts. The practice continued even after his conversion to the Jehovah's Witnesses in the early '00s – and after his 2016 death, as his estate has twice issued songs from his vault. Read below to see how Prince celebrated his birthdays.
1978: "Soft and Wet" Released
Born June 7, 1958 in Minneapolis, Prince Rogers Nelson celebrated his 20th birthday by releasing his first single, "Soft and Wet." Apart from a lyric co-writer credit, the song was completely written, recorded and produced by Prince. Taken from his debut album For You, "Soft and Wet" barely cracked the Hot 100 but served as an early warning for both Prince's prodigious musical talents and his willingness to push lyrical boundaries into risque sexual territory.
1984: First Avenue Concert
Three weeks before the release of the Purple Rain album, and six before the release of the accompanying movie, Prince celebrated his 26th birthday with a concert at First Avenue, the hometown venue where much of the film takes place. The month-old single "When Doves Cry" was the only song from the album played that night, with the set list instead largely devoted to b-sides or songs he would eventually give to other artists. According to PrinceVault, the show was followed by a private birthday party at a nearby sculptor's studio – and, of course, everything was decorated in purple.
1985: A Masquerade Ball
A year later, with two successful singles from his Purple Rain follow-up Around the World in a Day still dominating the airwaves, a masquerade ball was held for Prince's 27th birthday at the Prom Center in St. Paul. Prince performed that night with both the Revolution and his new protege group the Family, and the venue was decorated in a carnival motif, complete with mirrors, mannequins, pinball machines and two big brass beds.
1986: A Motown Birthday Party
A month before the release of his second feature film, Under the Cherry Moon, Prince took an expanded, horn-boosted edition of the Revolution out for what would be their final tour together. Only nine American cities were lucky enough to see this show, which touched down in Detroit for Prince's 28th birthday. The concert, which featured Wendy and Lisa leading the crowd in a rendition of "Happy Birthday," was professionally filmed and widely bootlegged. This would be among the first things released, if we were given control of Prince's vault of unreleased music and video.
1987: First of Four 'Sign O the Times' Shows in Milan
Prince marked his 29th birthday with the first of four shows at the Palatrussardi in Milan, Italy. The tour, in support of a double album widely hailed as his masterpiece, showcased a new band featuring Sheila E. on drums, lone original Revolution holdout Dr. Fink and several members of the short-lived, expanded version of the band. With his record sales declining in his home country, Prince resisted his label and managers' pleas to bring the tour to America. As a compromise, he filmed several shows for later release as the fantastic Sign O' the Times concert film.
1990: Prince Gets Nude in Hamburg
Prince played the fifth date of a three-month long summer tour of Europe in Hamburg, Germany, as his smash hit Batman soundtrack was finally cooling off a year after its release – and with the soundtrack to his third (and last) major studio film Graffiti Bridge slated for August. The trek was provocatively titled the Nude Tour, not because it was clothing optional but rather because it featured a stripped-down set design, without any of the basketball courts, flying beds or Ford Thunderbirds featured on previous tours.
1991: "Gett Off" Shakes Everything Up
Realizing that a shake-up was in order because of the lackluster reception generated by the Graffiti Bridge movie and soundtrack, Prince used his 33rd birthday to announce the dawning of a new era. He surprise-released the thumping, salacious "Gett Off" via a promo-only 12-inch single sent to club DJs. The song found him sharing credit with a new backing band (the New Power Generation) for the first time in five years. Originally planned as a stand-alone, pre-album release, the reception to "Gett Off" was so strong that it was released as a commercial single the following month, and ultimately added to the Diamonds and Pearls album, which featured a more organic, band-oriented sound and successfully returned Prince to multi-platinum sales status in the United States.
1992: A "Sexy" Sequel
Turns out even Prince loves sequels. Clearly pleased by the success of the previous year's surprise "Gett Off" release – and despite being barely halfway finished with a worldwide tour in support of Diamonds and Pearls – Prince dropped another birthday gift on DJs with the release of "Sexy M.F." Three weeks later, it would be the first commercial single released from Prince and the New Power Generation's sophomore Love Symbol Album.  The song's explicit content, particularly the MF-bomb he drops in the chorus, kept it from getting too far up the charts, but that wasn't really the point, was it? (Prince also played a private show at the tiny Park Cafe in Munich, Germany on this day, commemorating his 34th birthday.)
1993: The Name Change
Fed up with what he perceived as an unfair contract and undue constrictions on his creative output, Prince drew a line in the sand on his 35th birthday by changing his name to an unpronounceable symbol, kicking off a nasty public feud with longtime label Warner Bros. that would occupy much of the next three years. "It is an unpronounceable symbol whose meaning has not been identified. It's all about thinking in new ways, tuning in 2 a new free-quency," he explained in a statement. It wasn't until May of 2000 – after freeing himself from both his label contract and publishing deal – that Prince reverted to his original name.
1994: The Artist Formerly Known as Prince Gets 'Interactive'
Prince was fascinated by the power of the internet, and was among the first major artists to experiment with online forms of music distribution and fan interaction. Released on his 36th birthday, the Interactive CD-ROM allowed fans to explore a fictionalized version of his home studio, collecting puzzle pieces that earned them access previously unreleased songs and videos.
1995: "Poom Poom Poom Poom Poom Poom" (Repeat Forever)
Prince premiered the randy and highly repetitive "Poom Poom" at his New Power Generation stores in London and Minneapolis to celebrate his 37th birthday – which he instead considered the second birthday under his new unpronounceable name. It would be two and a half years until the songs was released publicly, as part of 1998's vault-sampling Crystal Ball collection.
1996: "Dinner," With Reservations
Prince kicked off the short-lived marketing campaign for Chaos and Disorder, the last album of original material released through Warner Bros. before he began seeking other deals, on his 38th birthday. He sent a promotional advance cassette of the album's only single, "Dinner With Delores" to fans who subscribed to the Prince / 0+> newsletter. The next day, he appeared on The Late Show With David Letterman, performing the song with the word "slave" written on his cheek.
Late '90s: "I Don't Celebrate Birthdays"
Prince experienced a spiritual awakening as his time with Warner Bros. came to an end. He'd become friendly with Larry Graham, who joined the Jehovah's Witness faith in 1975. Their regular discussions about the Bible eventually led Prince to convert at some point between 2001 and 2003. He'd already stopped celebrating his birthday, however, in accordance with Jehovah's Witness tradition. Prince told Mel B of the Spice Girls in 1998 that it's better to celebrate the day you die, because that signals ascension to Heaven. A year later, he told Dutch TV host Ivo Niehe that you only have one birthday – the actual date you were born – and that avoiding these celebrations "stops me from counting days, which stops me from counting time, which allows me to still look the same as I did 10 years ago."
2000-01: Celebrations at Paisley Park
Even though he wasn't recognizing his birthday anymore, Prince blocked off a week in June at Paisley Park, opening it to the public and holding all-night dance parties for two consecutive years. The first, which kicked off on his 42nd birthday, concluded with a concert at Minneapolis' Northrop Auditorium that featured a reunion with three members of the Revolution, Brownmark, Bobby Z. and Dr. Fink. The 2001 installment, held from June 11-16, offered a preview of The Rainbow Children and culminated in shows with the New Power Generation at the Xcel Energy Center in St. Paul on the last two nights.
2002: Prince Plays Winnipeg
Prince's 44th birthday coincided with a concert at Le Rendez-Vous in Winnipeg, Manitoba, Canada. The 11-song set included covers of Bill Withers' "Ain't No Sunshine," Jimi Hendrix's "Red House" and Led Zeppelin's "Whole Lotta Love." It's unknown if he said anything from the stage that acknowledged his birthday.
2010: Prince Hopes for a "Hot Summer"
Prince used his 52nd birthday as an opportunity to premiere a new song via the Current, a public radio station in Minneapolis. "Hot Summer" was recorded for the scrapped Welcome 2 America record, and has remained unreleased, although he performed bits of it a few times that July.
2014: Prince Plays Vienna
As in 2002, Prince's birthday fell at time when he was on the road. His June 7, 2014 show at the Wiener Stadthalle in Vienna was the final date of the Hit and Run Part II tour, and Prince delivered a 33-song hit-filled set that included takes on songs he wrote for the Time ("Cool") and Vanity 6 ("Nasty Girl"). Once again, it's not known if he said anything about his birthday.
2018: Prince Explores His Gospel Side on "Mary Don't You Weep"
On what would have been his 60th birthday, the estate of Prince offered his take on the spiritual "Mary Don't You Weep," the first track heard from the Piano & a Microphone 1983 recording. The song, which also contained a lyric from "Strange Relationship," was used that summer at the end of Spike Lee's BlacKkKlansman.
2019: Originals Released
For the second consecutive year, Prince's birthday was used as an opportunity to get a peek inside his famous vault, only this time it was a full album. Originals consisted of Prince's versions of 15 songs that Prince gave to other artists, including the Time ("Jungle Love"), Sheila E. ("The Glamorous Life"), the Bangles ("Manic Monday") and Kenny Rogers ("You're My Love").
More From Ultimate Prince