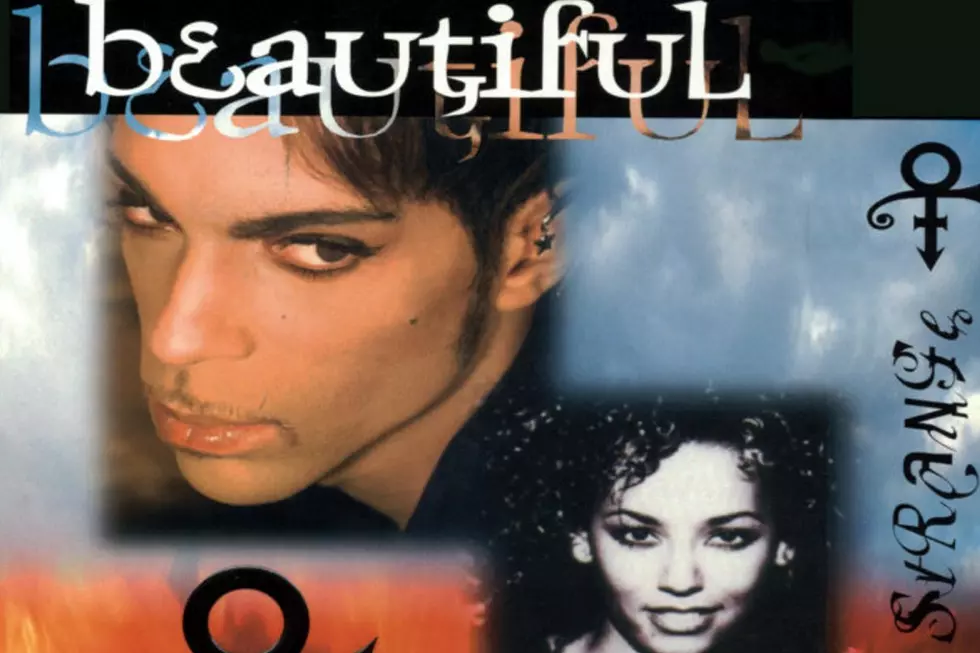 20 Years Ago: Prince Treats Fans to a 'Beautiful Strange' Aftershow
NPG
Thanks to the Aug. 24, 1999 release of Beautiful Strange, Prince fans didn't have to cram into a sweaty venue at 3 in the morning to enjoy one of his famous aftershows.
The long-form home video featured about 50 minutes of footage from an August 1998 invite-only performance at London's Cafe de Paris. Prince shares the spotlight with R&B and hip-hop legends Larry Graham, Chaka Khan and Doug E. Fresh. Khan's Prince co-produced Come 2 My House album was released shortly after the concert, Graham's own purple collaboration GCS 2000 followed a few months later, and Fresh appeared on two songs on the New Power Generation's June 1998 album Newpower Soul, which is widely considered to be a Prince album.
The quartet meshed together wonderfully, with each guest taking the lead on a song or two, highlighted by Khan's tender "Sweet Thing." In Fresh, Prince finally seemed to have found a long-elusive natural fit: a hip-hop partner with whom he shares enough common ground, talent and experience to mesh together properly.
The package was rounded out by a lyric video for the previously unreleased song "Beautiful Strange" (which would turn up two years later on the Rave In2 the Joy Fantastic remix album), and a performance video for the digital-only track "Mad."
There was also a very informal and largely unrevealing 19-minute interview conducted by Spice Girls star Mel B. The most interesting nugget revealed here was that Prince no longer celebrates birthdays, instead declaring that he will celebrate "the day I die." That's a big change from past years, when he would frequently celebrate the occasion with special concerts or by releasing new songs.
The timing of this video's release – the same day that Prince's former label Warner Bros. decided to issue The Vault, his last contractually mandated collection of new songs – doesn't seem like a coincidence. But Prince took pains during the interview to insist that he held no grudge against major labels, even hinting that he could return to partner with one again in the future. And he, in fact, did the following year, with the star-studded Rave Un2 the Joy Fantastic.
Beautiful Strange has yet to be released on DVD, Blu-ray or any digital formats, but somebody was kind enough to post the entire video on YouTube, as you can see below.
Where Are Prince's Bandmates Now?
More From Ultimate Prince