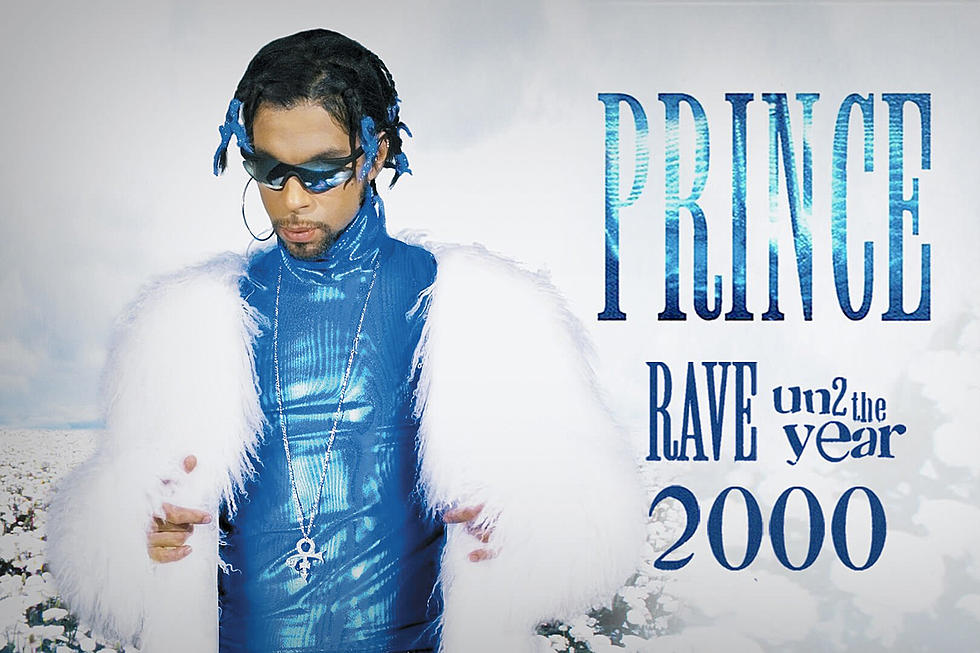 20 Years Ago: Prince 'Retires' '1999' at 'Rave Un2 the Year 2000′
PBS
With Prince's 1982 classic "1999" stating a desire to party before the world ends in 2000, it made sense that he would ring in the new millennium by inviting the world to celebrate the impending apocalypse with him. Rave Un2 the Year 2000 was a pay-per-view concert that aired on Dec. 31, 1999, with "1999" closing out the night at the stroke of midnight.
The show had been performed two weeks earlier, on Dec. 18, at Paisley Park. In addition to some of his biggest hits, Prince paid tribute to James Brown ("Talkin' Loud and Sayin' Nothing") and played three Sly & the Family Stone tunes ("Everyday People," "I Want to Take You Higher" and "Thank You (Falettinme Be Mice Elf Agin)).
He also brought on a host of guest stars to help him ring in the new year. Lenny Kravitz showed up to play his two then-recent hits (a cover of the Guess Who's "American Woman" and "Fly Away"), former James Brown and P-Funk saxophonist Maceo Parker and New Power Generation singer Rosie Gaines each guested on a few songs, and George Clinton was brought on for the second encore to perform some of his classics.
Even more star power entered the picture on the special, with Morris Day & the Time coming on for "Jungle Love" and "The Bird," although those had been recorded on the same stage the day before. PrinceVault says the concert started at 11:45 and lasted 280 minutes, which doesn't include Day's songs, so a good chunk had to be removed to bring it to under two hours. However, the DVD -- the final piece of product issued before the artist re-changed his name to Prince -- that came out the next June added highlights from the encore, including Parliament's "Flash Light," the saxophone and harmonica solos from "The Undertaker" and Graham Central Station's "Release Yourself" as bonus tracks.
Also, a bit of shuffling had to be done to pull "The Greatest Romance Ever Sold" and "Baby Knows," the last two songs of the night, out of the second encore so that the show could conclude with the one-two knockout punch of "Baby, I'm a Star" and "1999."
A week prior to the taping, he appeared on Larry King's CNN show and talked about what caused him to write the song 17 years earlier. "We were sitting around watching a special about 1999," he said, "and a lot of people were talking about the year and speculating on what was going to happen. And I just found it real ironic how everyone that was around me whom I thought to be very optimistic people were dreading those days, and I always knew I'd be cool. I never felt like this was going to be a rough time for me. I knew that there were going to be rough times for the Earth because of this system is based in entropy, and it's pretty much headed in a certain direction. So I just wanted to write something that gave hope, and what I find is people listen to it. And no matter where we are in the world, I always get the same type of response from them."
At the time, Rave Un2 the Year 2000 was also hyped as his last-ever performance of "1999." On Dec. 28, 1999, he appeared on CBS' The Early Show to promote the special. "This is going to be the last time we play it," he said. "We're going to retire it after this, and there won't be no need to play it in the 00s."
Of course, the world didn't end in 2000, although a global panic over how computers could potentially treat the millennium changeover led people to think that Prince's prediction might come true. So, as anybody who ever bought tickets to a farewell tour only to have the act go back on their word a few years later can attest, the plan to mothball "1999" didn't last.
It took a good seven years for him to go back on his word. His set during the Super Bowl halftime show on Feb. 4, 2007 featured a marching band performing a few bars of its main riff between "Let's Go Crazy" and "Baby, I'm a Star." If that could be written off as a technicality since no words were sung, he played it in June during a special series of shows at the Hollywood Roosevelt Hotel that June.
A few months later, the song showed up at 13 of the 21 shows he played at London's O2 Arena that summer, and then it was back to stay. According to Setlist's song statistics, he played "1999" 153 times after the Rave Un2 the Year 2000 show. His last performances of it came on both nights -- Dec. 31, 2015 and Jan. 1, 2016 -- of a two-night stand at Russian oil magnate and Chelsea Football Club owner Roman Abramovich's estate on St. Barts.
A one-hour condensation of Rave Un2 the Year 2000 was broadcast on PBS in June 2019 to coincide with what would have been Prince's 61st birthday.
Prince Albums Ranked
More From Ultimate Prince