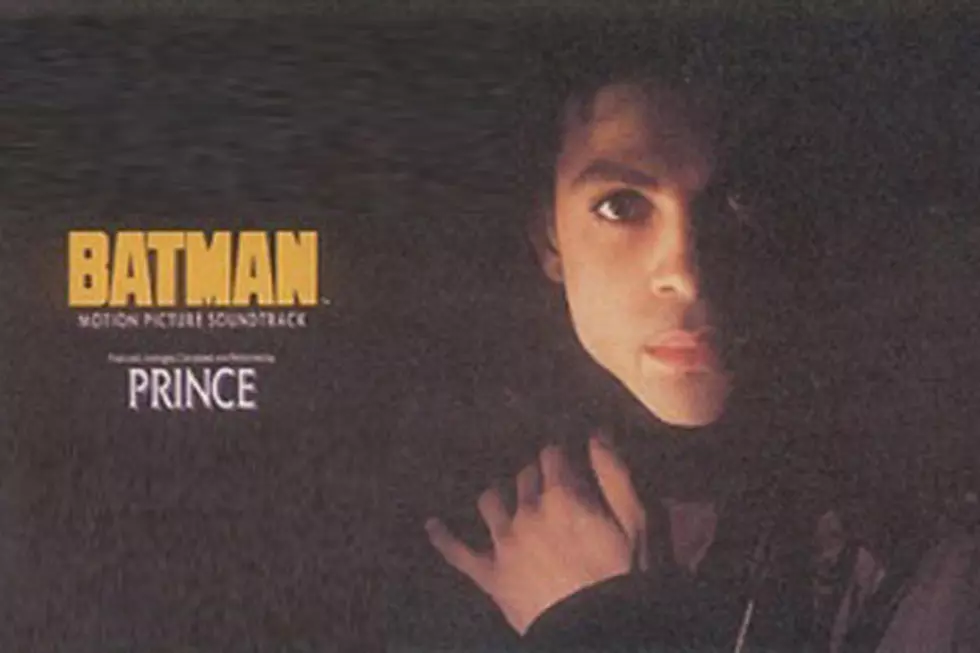 Prince 'Batman' Roundtable: Our Writers Answer Five Mind-Broadening Questions
Warner Bros.
To celebrate the 30th anniversary of Prince's Batman soundtrack, we asked our writers five questions about how well the album complimented Tim Burton's film, and how well it stands up on its own all after all these years. Here's how they answered..
1) What did you think of this album when it first came out, and what do you think of it now, 30 years later?
Erica Thompson: I have a different experience than most, as I was born a few years before the album came out. However, I think my perception of it was tainted by press and Prince books that called it a "throwaway" when I did finally listen to it. Today, I think it adds tremendous value to Prince's discography because we get to see him creating some pretty strong material based on someone else's vision, and showcasing his talent for writing from multiple perspectives in a single album.
Nick DeRiso: At first, this had all the markings of another tired attempt at corporate synergy – after all, the film was being made by Warner Bros., who also had Prince under contract. Certainly, "Batdance" didn't point to any sort of Big Thoughts. But Batman was more than that, much more. Prince leveraged his then-current obsession on the topic of good vs. evil, creating a stand-alone project that still reveals cool new insights. And since almost all of this music got left on the cutting-room floor by director Tim Burton, the album is able to stand more on its own now.
Annie Zaleski: When it first came out, I loved it. I recall it was one of the first CDs my dad bought, as my family had just bought a CD player, and I saw and loved the Batman movie in theaters.  I still love the album today, because it shows a more playful, lighter side of Prince that we didn't get to see often. He was applying his muse to someone else's artistic vision, which made for intriguing work. Mood-wise, it's a little disjointed, but the high points are worthy, and fit the dark noir vibe of the film.
Michael Christopher: At the time, the music was almost secondary. The Batman character returning to live action after 20 years was such a cultural event in itself, and everything added to it just made it that much larger than life. One of the biggest pop stars on the planet creating an entire soundtrack for the movie was '80s excess in a nutshell. Musically though, it was getting hard to keep up with Prince since he was releasing an album a year and Lovesexy from the year prior was a bit spotty. In retrospect, Batman feels like a breather from working on Graffiti Bridge, and a fun project that was almost guaranteed enough success to get an increasingly hits-hungry record label off his back for a bit.
Keith Creighton: By 1989, we had gotten a genius-level Prince record every year for a decade (letting 1999 count for two), so there was fever-pitch anticipation at our radio station when Batman dropped. The urban legend of the Black Album only added to the frenzy of imagining what look and sound could be next. Let's not forget the added anticipation for the movie; while Burton's Batman looks campy today, back then it was really dark, daring, and exciting and a cultural phenomenon. Today, Batman's sparse, crackling, bass-heavy production holds up way better than the overproduced Graffiti Bridge and Love Symbol albums that followed. I just find myself skipping "The Arms of Orion" and "Batdance".
Cherrybomb: Unlike director Tim Burton's opinion, my initial impression of the Batman soundtrack was positive, as it sounded like early '80s Prince, and I loved it in all of its campy over-the-top entirety. Listening to the album three decades later, it still sounds every bit as dirty and funky as Prince himself. Much of the album, especially "Partyman" could easily be mistaken for a lost track from 1999 or Purple Rain. Ask yourself; who else could compose a soundtrack dedicated to the story of one of his own personal heroes, Batman, and go on to score a number one hit with an indulgent six-plus minute song about said caped crusader? Nobody but Prince, that's who.
Watch Prince's "Partyman" Video
2) What are the three best songs on the album?

Thompson: First place goes to "The Future." When he brings his A-game, Prince is a master at painting worlds with his composition and lyrics, with just enough intrigue to pull us in, while leaving room for us to write the story. He's at his most ominous here without sacrificing the funk. Second, "Partyman," the perfect theme song, not just for the Joker but for Prince — known for a wonderful sense of humor, interesting vocal effects, impressive horn arrangements and irresistible dance beats. And who else writes lyrics like, "If it break when it bend, you better not put it in?" Third, "Vicki Waiting," even though its lyrics have been altered from the original version, is still Prince at his most personal. His vocal choices demonstrate why he is an expert soul singer, and his guitar wails more than he does.
DeRiso: "The Future," which perfectly lays out his intentions to explore darker themes; "Electric Chair," which gives Prince another chance to, you know, melt his guitar; and "Partyman," an endlessly entertaining dance number that both reflects Prince's interest in Jack Nicholson's Joker character and transcends it by sheer force of funky will.
Zaleski: "Electric Chair": One of Prince's best straight-up rock songs that shows off his fiery guitar skills; "Partyman": A classic Minneapolis funk dance party-starter; "Lemon Crush": A dizzying, digital pastiche of '80s pop, R&B, funk, and soul – it's just a vibrant, forward-thinking song.
Christopher: "Electric Chair" is so gloriously '80s Prince with its synth-heavy funk, layered vocals and spurts of guitar. It would've been perfect as a B-side to a single from Sign 'O' the Times, which basically makes it an A-side. "Partyman" is just goofy, enjoyable fluff. It's a great dance floor song and features Prince at his lightest, most carefree. And you can't think of Prince without sex, which is what "Scandalous" seeps from beginning to end; it's just a shame the entire three-part, nearly 20-minute suite wasn't included on the album.
Creighton: "The Future" and "Electric Chair" didn't re-tread any well-worn Prince sounds of the era and still sound current today. As for #3, I am torn between "Trust" and "Lemon Crush".
Cherrybomb: I'm all about the high-energy vibe of this album. "Partyman," "Lemon Crush," and yes, "Batdance" in all its guitar-shredding lunacy showcase the fluid creativity and passion of Prince at the top of his game.
Hear Prince Perform "200 Balloons"
3) Would the album have been better with "Rave Un2 the Joy Fantastic" and "200 Balloons" instead of their replacements, "Partyman" and "Trust"?

Thompson: Without "Partyman," which fits the Joker – and Prince – so well, the album would have suffered. "200 Balloons" is the most interesting track, production wise, but the catchy "Trust" is a better pop song, and may have worked well as a U.S. single.
DeRiso: I like "Rave Un2 …" more than "Trust," but "Partyman" is irreplaceable to me.
Zaleski: No, I don't think so. Really, the weak link on the album is "The Arms of Orion," which is so treacly and thin-sounding for a Prince ballad.
Christopher: Hands down "200 Balloons" should've been included. Despite it having some of its elements used in "Batdance," it arguably would've been the highlight of the record. "Rave Un2 the Joy Fantastic" is a bit too unknown to make that call. Prince was obviously very high on the song and had spent a good deal of time working on it up until Batman and then after, but in it's final 1999 form would be too out of place on the soundtrack.
Creighton: Far worse – both of those replacements were a good call. I wish he also sacked "The Arms of Orion" to make room for the far superior "Dance With The Devil".
Cherrybomb: "200 Balloons" is a party song and it plays really well with both "Partyman" and the equally funky "Trust," but it's hard to imagine this album sans Prince's Joker-focused "Partyman."
4) Where do we stand on 'Batdance?' Is it even fair to judge it as a song?
Thompson: It's unfair to judge "Batdance" against Prince's other hit singles, which are more conventional by comparison. "Batdance" is such a unique product of its affiliation and the musical landscape of the time. It had the engine of the mega-hit film behind it, and came out – as writer Scott Woods pointed out – amid similar tracks by The Art of Noise and the like.
DeRiso: It's an ad for the movie, and as such did its job: After a flop movie and a flop album, Prince needed a win. This soundtrack, even though it ultimately had little do with the film, piggybacked "Batdance" to No. 1 – giving Prince a chance to finish his biggest-ever decade on a final high note.
Zaleski: I am very pro-"Batdance." I think it's a fairly brilliant song, as it's really of a piece with the then-nascent sampling culture (see: Paul's Boutique). It incorporates movie dialogue in a way that doesn't feel like crass self-promotion – the way lines are spliced in feels artful – and the callbacks to other songs on the album are very satisfying.
Christopher: It's a novelty song for sure, and certainly something that shouldn't be considered when counting down the greatest Prince compositions; but I think most people miss the point of how important that piece was for him. The first song Prince ever learned on piano, at age seven, was Neil Hefti's 1966 "Batman Theme," so obviously it held a special place in his heart. "Batdance" was almost like opportunity to compose his own Batman theme song, kind of fulfilling a childhood fantasy. In that context it's a much more important track than a weird mish-mash that somehow went to No. 1 on the charts around the globe.
Creighton: It's a danceable infomercial for the movie and album, but a song? Not so much.
Cherrybomb: "Batdance" is Prince's eccentric musical love letter to Batman, who the musician grew up watching on television. Without question, Prince's heart and soul live in this ambitious song. It's an intricate, layered jam with lots of musical curve balls, riffs, and surprises including audio samples from the film, and the incorporation of Batman's original theme (composed by Neil Hefti). And it didn't become a massive hit across the world for nothing. "Batdance" belongs in the same category as Michael Jackson's "Thriller": a highly unconventional classic only a musical genius could have pulled off.
Watch Prince's "Batdance" Video
5) Do the William Orbit remixes of "The Future" and "Electric Chair" make you wish Prince had given himself over to real collaborations more often?
Thompson: They are really well done, but remixes never make me long for more collaboration. I would have been more interested in hearing Prince use a producer or even a lyricist (see "Solo," co-written with David Henry Hwang, from the Come album) more often.
DeRiso: Absolutely. If there is a knock to be made on Prince, it's that he was so very insular. Even his long-unreleased demos, some of which later arrived on the posthumous Originals, have been criticized as ever-so-precise blueprints to be followed, note for note, rather than embryonic ideas meant to be fleshed out by a collaborator. As brilliant as Prince no doubt was, it would have been intriguing to see how his ideas would have evolved with someone else in the room.
Christopher: It was surprising in the first place that such a notorious control freak like Prince would allow his songs to be remixed in the first place, but William Orbit is such a genius when it comes to re-imagining other artists' music, always being respectful to the source material and adding his own touch. It would've been interesting to see the two collaborate on more tracks – even "The Batmix" version of "Batdance" he did was brilliant.
Creighton: Prince seemed like a "his way or the highway" type dude, but most of his post 90's work had all of the sonic edges sanded off. Listening to how intense The Undertaker session is, it would have been nice to hear what Butch Vig, Mirwais, Rick Rubin, Ariel Rechtshaid, William Orbit, or some other visionary producer would have done with a Prince session. As for remixes, these two Orbit remixes offer nothing new; I'd much rather see someone like Victor Calderone re-imagine a Prince track the way he did with the Madonna/Orbit collab "Beautiful Stranger".
Cherrybomb: Absolutely! Everything is better when you add a little (or a lot) of Prince.
Prince Albums Ranked Worst to Best
More From Ultimate Prince