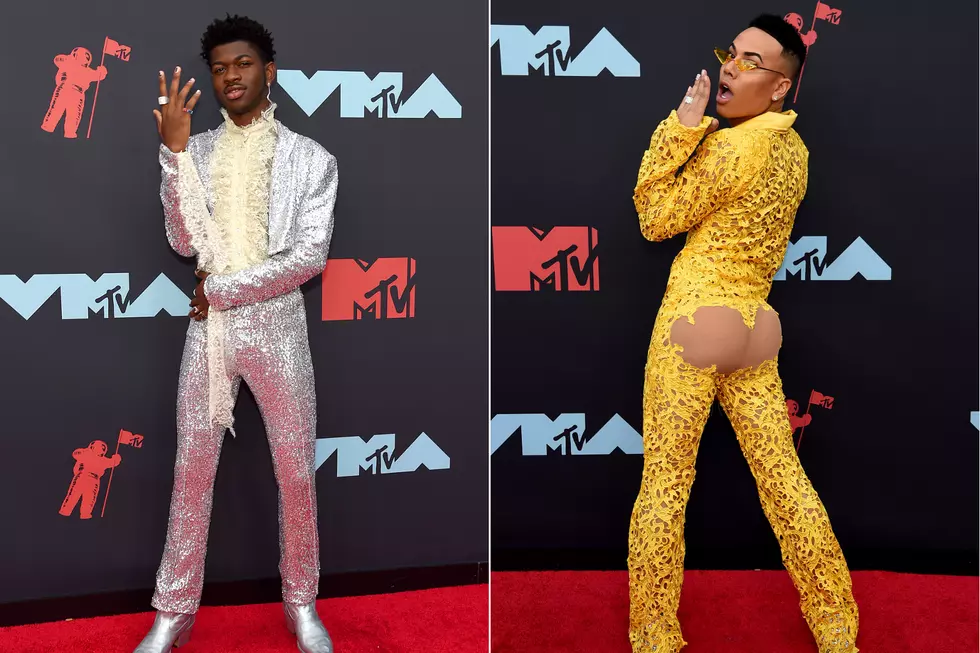 Lil Nas X, Bobby Lytes Channel Prince With MTV VMA Outfits
Jamie McCarthy, Getty Images
Prince continues to be a fashion icon, even years after his death.
Two stars paid tribute to the purple one at last night's MTV Video Music Awards, donning outfits inspired by the late rocker's famous looks.
Bobby Lytes, an aspiring rapper and star of the reality show Love & Hip Hop: Miami, wore a replica of Prince's notorious 1991 VMA ensemble. The bright yellow lace jumpsuit included holes cut in the back to display the wearer's butt cheeks.
The music legend turned heads at the '91 awards when he wore the revealing outfit while performing his single "Gett Off." The fashion choice grabbed headlines and was parodied on late night TV shows, including a sketch by Jamie Foxx on In Living Color. A year later, Howard Stern appeared at the VMAs in a similar outfit, calling himself "Fart Man."
The outfit worn by Lil Nas X at this years' VMAs was also Prince inspired, albeit a little less obvious. The "Old Town Road" singer wore a silver sequined jumpsuit featuring a lace, ruffled undershirt. The look was strikingly similar to attire worn by Prince around the time of Purple Rain.
Jamie McCarthy, Getty Images
In describing the "Prince vibes" detected in Lil Nas X's outfit, Esquire noted that "tight, stage-ready tailoring," "sparkle" and "ruffles" were all "hallmarks of The Purple One."
The Prince visual tributes weren't limited to men. Rapper Lizzo also gleaned style inspiration from the music icon during her VMA performance. The chart-topping singer was flanked by dancers in two different sets of Prince ensembles. One group had butt-bearing pants, harkening to the aforementioned VMA outfit. The second set of dancers donned cloud covered bodysuits, replicating Prince's look from the "Raspberry Beret" music video. Lizzo has history with Prince having contributed to the song "Boytrouble" on his 2014 LP Plectrumelectrum.
Lil Nas X took home "Song of the Year" during the awards show, thanks to his break out hit "Old Town Road." Other big winners on the night included Taylor Swift, Ariana Grande and Panic! At the Disco. Rapper Missy Elliott was honored as a "Video Vanguard," MTV's version of the lifetime achievement award.
Prince Magazine Ads Through the Years: 1978-2016
More From Ultimate Prince