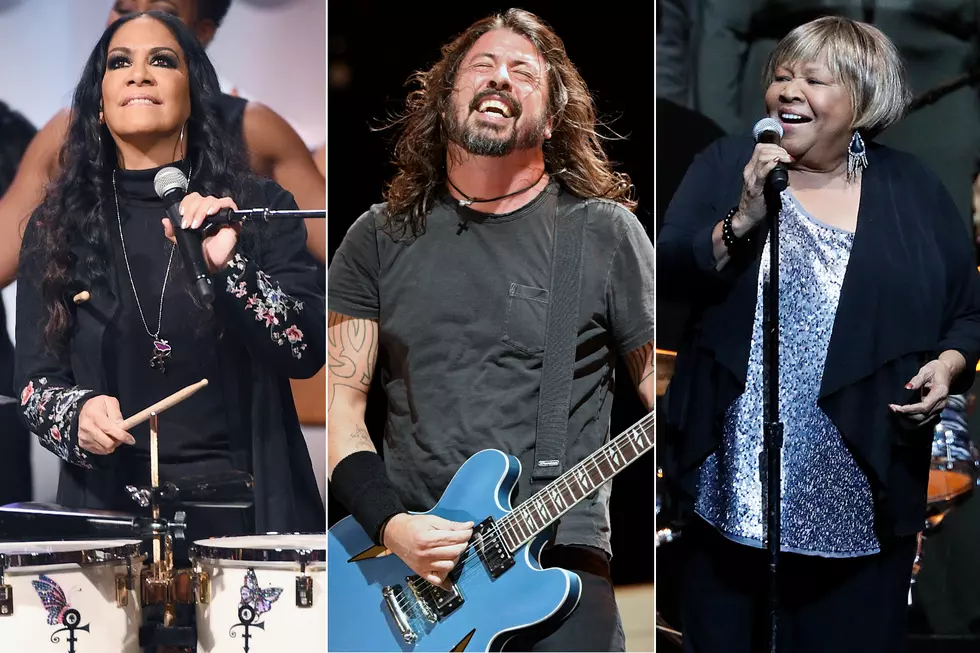 Sheila E., Foo Fighters Lead All-Star Prince Tribute Concert
Kevin Winter / Ethan Miller / Paul Morigi, Getty Images
Two days after teaming with Usher for a riveting Prince tribute at the 2020 Grammy Awards, Sheila E. served as bandleader for the eclectic, all-star concert Let's Go Crazy. Actress-comedian Maya Rudolph hosted the ceremony, which featured performances, reflections and video segments.
After a pre-taped opening from Grammy showrunner and executive producer Ken Ehrlich, the evening kicked off with a warm Rudolph introduction. "When it came to performing, Prince still had everyone beat," she told the crowd, according to Rolling Stone. "Prince is music. To love Prince is to love music."
Performances began with H.E.R. and Gary Clark Jr. teaming up on the event's titular song, "Let's Go Crazy." The R&B singer and blues-rock artist traded off on vocals throughout the track, even tackling the guitar solo together.
John Legend shifted the mood with "Nothing Compares 2 U," and Colombian singer-songwriter Juanes offered another 180 with his version of "1999." Sheila E., who performed on nearly every song, teamed with rapper Common to share vocals on "Sign O' the Times," and H.E.R. returned onstage to play a piano-led take on Purple Rain cut "The Beautiful Ones."
The full Sheila E. Band paired with Foo Fighters for Around the World in a Day single "Pop Life," and the latter group stuck around for their own Purple Rain tune, "Darling Nikki." Before the performance, frontman Dave Grohl recalled one of his favorite musical memories: jamming Led Zeppelin's "Whole Lotta Love" with Prince in an empty arena.
Following re-aired Grammy-night performances from Alicia Keys and Usher, Morris Day and the Time came out for a mini-set that featured their songs "Jungle Love" and "The Bird." Beck, who famously hugged Prince after winning the Grammy for 'Album of the Year' in 2015, fronted a take on "Raspberry Beret."
In the next stacked musical segment, Earth, Wind & Fire's Verdine White, Philip Bailey and Ralph Johnson tackled Sign O' the Times closer "Adore," followed by St. Vincent with "Controversy," Clark Jr.'s version of "The Cross" and Miguel on "I Would Die 4 U."
Susanna Hoffs collaborated with Coldplay's Chris Martin for a twist on her Prince-written Bangles hit, "Manic Monday," and Sheila E. fronted her own medley of "America" and "The Glamorous Life."
Former Prince backing band the Revolution then took over for a series of songs, recruiting Rudolph for "Delirious," playing "Mountains" on their own and teaming with Mavis Staples for powerhouse "Purple Rain." As the grand finale, Sheila E., the Time, Foo Fighters, Rudolph and comedian-musician Fred Armisen tackled "Baby, I'm a Star."
Between songs, the concert also featured Prince music videos, the brief documentary Prince Beginnings and tributes from collaborators and admirers like Rudolph, Armisen, model Naomi Campbell, ballet dancer Misty Copeland and producer/former Time member Jimmy Jam.
Let's Go Crazy: The Grammy Salute to Prince was taped for broadcast later this year on CBS.
Prince's History at the Grammys
More From Ultimate Prince