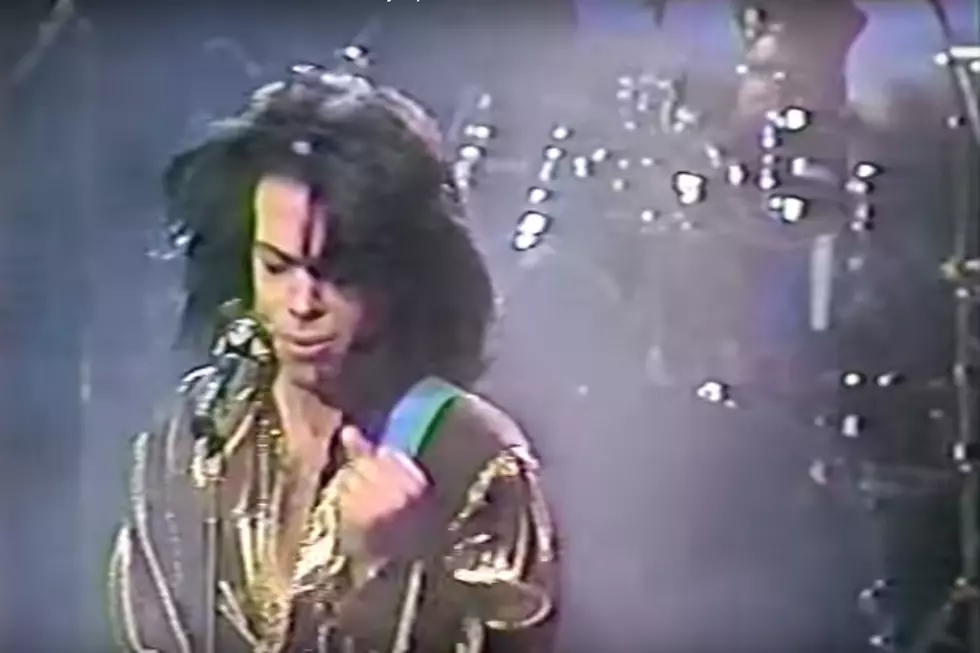 30 Years Ago: Prince Returns to 'Saturday Night Live' for an 'Electric' Performance
YouTube
Prince was an old pro by the time he set up to perform "Electric Chair" as part of Saturday Night Live's 15th anniversary special. The same couldn't be said for his young drummer.
Michael Bland made his performance debut on Sept. 24, 1989, joining a reconfigured live band that also included bassist Levi Seacer, guitarist Miko Weaver, keyboardists Dr. Fink and Patrice Rushen, saxophonist Candy Dulfer, and background vocalist Margie Cox. Dulfer, who would also play with Prince regularly over the ensuing years, was on stage with him for the first time, too.
"It was difficult to grasp the magnitude of the situation," Bland told the Twin Cities Pioneer Press in 2017. "I had never been anywhere or done anything, and here I was working with this major superstar. I had nothing to compare it to, and I didn't know what to do and what not to do."
Prince had only recently discovered Bland while he was playing at Bunkers, a North Loop bar in Minneapolis. Now, Bland was suddenly playing on national television, after Prince's on-screen introduction by model Jerry Hall. Smoke rose up around the group as they tore into this Batman soundtrack deep cut, then Prince launched into step-perfect dance moves with two other band members as a huge banner from the movie came in view. Bland had just turned 20.
"Like any other boss, or anyone who takes their business seriously, Prince never accepted anything less than your best," added Bland, who would serve as a member of the New Power Generation for seven years. "But the difference between Prince and almost anybody else is that he wasn't asking anybody to do anything he himself wouldn't do."
This appearance, one of the highlights of a special Sunday night airing that also featured Robin Williams and Tom Hanks, marked Prince's first stop on SNL since 1981 when he played "Party Up." He wouldn't return again until 2006.
"Other people may have been on the show more times or performed more frequently, but there was always something different about a Prince performance," former cast member Jimmy Fallon said in 2016. "It was special. It was an event. It was Prince."
Prince played "Fury" and "Beautiful, Loved and Blessed" from 2006's 3121 during his next turn on the show. In 2014, he returned to burn through an eight-minute medley of songs, including "Clouds," "Marz" and "AnotherLove." He also made an impromptu appearance at an all-star after party as the cast celebrated the 40th anniversary of Saturday Night Live in 2015, offering a white-hot rendition of "Let's Go Crazy."
After his death, Prince was then the subject of an hour-long tribute episode called "Goodnight Sweet Prince," which featured all of those performances as well as related sketches like "The Prince Show," which featured Fred Armisen and Maya Rudolph.
His connection with Rudolph, a deeply devoted fan, actually goes much deeper. She memorably paid tribute to Prince after his death by describing him as "the one-of-a-kind, most brilliant, most special, most magical, most fucking incredible Prince Rogers Nelson. He was our hero. We loved him. And he has completely shaped our world."
That passion led her to co-found a tribute band in his honor called Princess, with jazz vocalist Gretchen Lieberum. They eventually met backstage, not long after the duo covered "Darling Nikki" on a 2012 episode of Late Night with Jimmy Fallon. "He was so fucking cool," Rudolph added. "He knew that we did Princess and he really supported it, because he knew that it came from love."
Meanwhile, Bland moved onto other things after Prince reconfigured the New Power Generation in 1996, collaborating with Paul Westerberg, Chaka Khan, Maxwell and, more recently, Soul Asylum. But he never forgot a key lesson from those first moments with Prince.
"Fear only exists in your mind," Bland told the Pioneer Press. "There is concern, there is caution, but fear is not something tangible. Prince also pushed me to always be open to a new idea, a new road and not to hold myself back with indecision. Before I met him, I was very hesitant about making mistakes. He'd ask me to play something and I'd want to think about it first. He'd say 'Put your hands [on your instrument]. You'll find the city, then you'll be able to find the street.'"
Prince's 'Saturday Night Live' History
More From Ultimate Prince