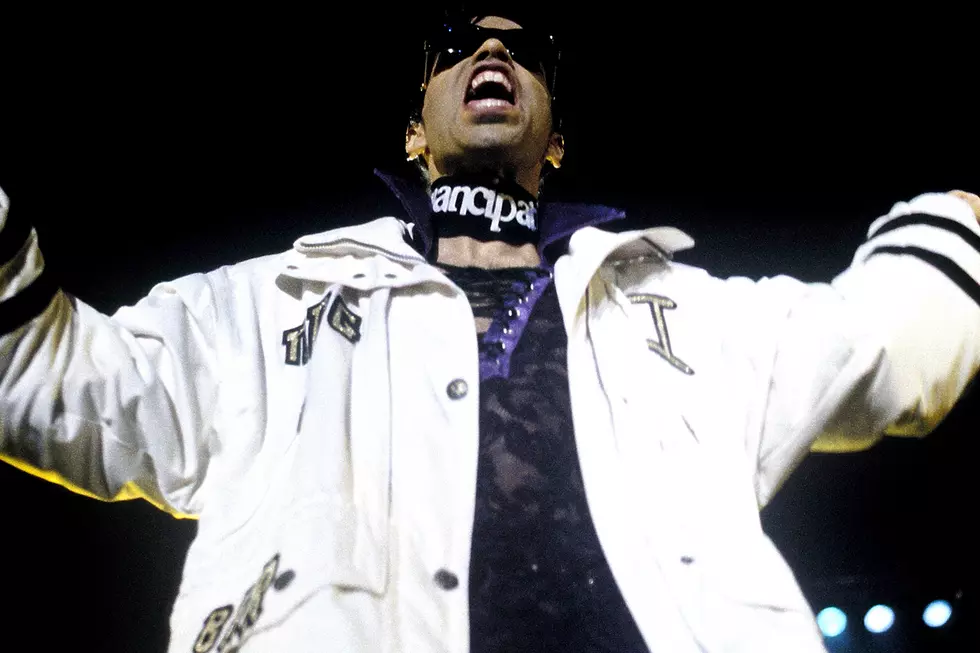 Prince Invites Everyone to the 'Jam of the Year'
Getty Images
When deciding what to use as the opening track of an album, many pop artists prefer to go with something dynamic and uptempo. To immediately shine a light on a Prince contemporary, think of the opening tracks on Michael Jackson's albums: "Don't Stop 'til You Get Enough," "Wanna Be Startin' Somethin'," "Jam." Songs like that suck the listener in, give off energy, make fans excited.
Prince was no stranger to this concept, as album openers like "I Wanna Be Your Lover," "Controversy," "Thunder," "My Name Is Prince" and, of course, "Let's Go Crazy" certainly are dynamic and uptempo. "Jam of the Year," the song that began 1996's three-CD set Emancipation, was dynamic, sure. It was also smoother and subtler than most other dance songs. Instead of blasting you out of your chair, "Jam" insinuates. Prince is inviting you to the best party of the year, but it isn't like "Let's Go Crazy" at all. It's mellower, with a grown and sexy vibe.
"Jam of the Year" does a wonderful job of setting a mood from the second it starts. The song begins with muffled bass and drums along with crowd chatter. As a listener, it feels like you're walking into a party that's already in progress, and capturing the sound as you get closer to the front door. Progressively, the drum beat gets louder, Prince lets out his signature "Ooh!" and then a horn section greets us as we walk into a full-fledged celebration.
Prince, of course, had reasons to feel celebratory around the time "Jam of the Year" was recorded (estimated to have been late 1995/early 1996). Emancipation was going to be the first album being released by him following his escape from the clutches of Warner Bros. Records. The artist was feeling a level of freedom and independence he'd never before felt as a professional musician. Prince's personal life was in a good place, too. In February 1996, just a few months before Emancipation's release, he'd married Mayte Garcia, whom he most likely references in the lyrics as "a new Puerto Rican score" who's "doin' it on the floor."
"Jam of the Year" also brought about a reunion of sorts. Singer Rosie Gaines was a member of the original incarnation of the New Power Generation, playing a prominent role on 1991's Diamonds and Pearls album and sharing lead vocals on that album's Top Five title track. Gaines left a year later, right before the release of the Love Symbol album, signing with Motown Records and releasing Closer Than Close in 1995, which featured some contributions from Prince. Rosie provided support vocals to "Jam of the Year," and her impassioned scatting is a highlight of the track. That song marked the last time Prince and Rosie played on a song together, and Rosie's recollection in Alex Hahn's Possessed: The Rise and Fall of Prince of not being paid for her appearance puts something of a bitter cap on the work the two did together.
Musically, "Jam" sounds like a hybrid of sounds that could easily be found on mid-'90s urban radio. The smooth but bass-heavy bottom fit right in with tunes by contemporary R&B giants Boyz II Men and TLC. Hahn labeled the song "a rather standard piece of mid-tempo dance music, (which) is elevated by various interesting touches." The song certainly has heavy elements of jazz running through it, from the live horn section to Prince's George Benson-esque guitar links, not to mention a jaunty piano solo played towards the song's conclusion. The song is upbeat, positive and sensual without being frenetic.
In early 1997, a remixed version of "Jam of the Year" featuring rapper Doug E. Fresh was prepared but never released, although a clip was available on Prince's website. He also made it the title of the tour he and a reconfigured version of the New Power Generation embarked on from July 1997 through January 1998, where he used it as his show opener. After dropping it from his set list shortly before the new millennium, "Jam" returned to Prince's live repertoire for a brief period in 2012.
More From Ultimate Prince