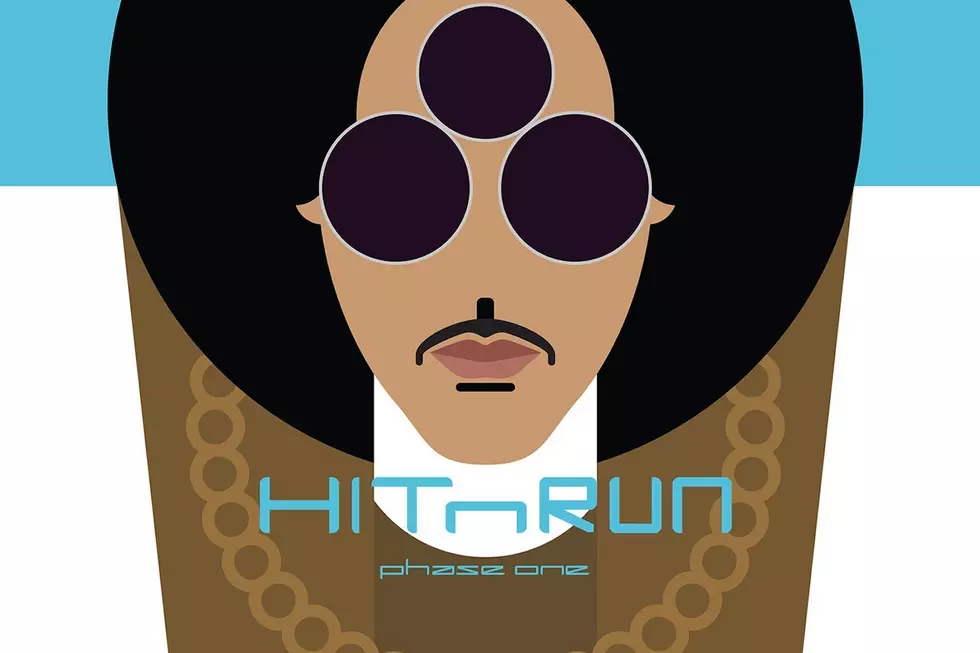 Why Prince Let Josh Welton Take Over on 'HITnRUN Phase One'
Universal
Prince's HITnRUN Phase One was an odd record – presented as quickly done and experimental, featuring an outside producer and appearing first on (gasp!) the internet.
It's the kind of thing that could get a legend cuffed around some, and to no small degree, it did: One critic said Prince had simply crashed and burned. Others were more generous, if only slightly: NME argued that Prince "hadn't lost it; he's just resting it." Pitchfork damned the album with faint praise, saying it was "slightly weirder than usual."
HITnRUN Phase One stands as a testament, however, to an artist who was still trying things. True, not all of it worked – the album certainly gets better (and more conventional) as it goes – but Prince couldn't be accused of laurel resting. He started by hooking up with youthful collaborator Josh Welton, who created a controversial foundation of market-driven programmed sounds.
"I like young energy," Prince told Entertainment Weekly in 2015. "If there's a big mess, you can bet an old person did it. An old person or a ­lawyer – or an accountant."
Prince was coming off a prolific year in which he'd released a pair of albums. One of them, Plectrumelectrum, was recorded with a touring band called 3rdeyegirl which featured Hannah Welton, Josh's wife. He and Josh Welton quickly grew close. "I just met him as a person first. I didn't know what he could do until we got in the studio," Prince told USA Today in 2015. "This is the first time I've let someone make a record for me. Josh hears music like I do."
Soon, they were putting the finishing touches on HITnRUN Phase One, which initially arrived via Tidal on Sept. 7, 2015. "In the tech-savvy, real-time world we all live in today, everything is faster," Prince said in an official statement at the time. "From its conception ... HITnRUN took about 90 days to prepare its release."
That doesn't mean it was all new, though. While some of HITnRUN Phase One was recorded in early- to mid-2015 at Paisley Park, according to PrinceVault, one track ("1000 X's & O's") had origins dating back to the early '90s. Others began in sessions from 2013-14, including "Shut This Down," "Ain't About to Stop," "Fallinlove2nite" and "X's Face." Earlier versions of "This Could Be Us" and "Mr. Nelson" appeared on 2014's Art Official Age, but were updated for this album.
Listen to Prince Perform 'Fallinlove2nite'
"Million $ Show" starts out in a familiar-enough place, with a sample of the slowed-down vocals from "1999," followed by a snippet of "Let's Go Crazy." But then a mechanical maelstrom rises up, making it clear that something very different is going on. Prince only sings and plays guitars, with the rest apparently handled by computers. "X Face," in particular, unfolds in a flurry of EDM blurts and squeaks. Even "Hardrocklover," which should have been an eruptively sensual Prince rocker, comes off a bit too polished.
"This is an experimental Prince record," Welton, then just 25, told Entertainment Weekly. "I know he has different types of fan bases, and this is kind of for [his hardcore followers] – the Purple Collective, the ones that say, 'I don't care what he puts out; I just love him.'"
The producer's commercially inclined fingerprints are on everything, even ballads and slow jams like "This Could Be Us" and "June." Prince also makes room for several notable guests along the way, including Rita Ora, Judith Hill and Lianne La Havas – but he wanted the focus to remain on Welton, who he saw as a potential producing phenom.
"I don't need to be any more famous," Prince told Entertainment Weekly back then. "I want you to write about Josh, so that one day when he's producing Beyonce's next record you can say, 'I was on that.'"
In fact, Prince favorably compared Josh Welton to another certain precocious R&B hitmaker, somebody who likewise understood how to make a studio bend to his will. "He's like me, younger," Prince told Miles Marshall Lewis of Ebony in 2015. "But I'm trying to get him to cut through all the junk that I had to learn on my own."
As admirable as their efforts at updating Prince's sound may have been, however, fans – including, apparently, the vaunted Purple Collective – stayed away in droves. HITnRUN Phase One barely cracked the Top 50, a huge disappointment after both of Prince's 2014 albums became Billboard Top 10 hits.
When Prince returned just a few months later with a sequel – titled HITnRUN Phase Two, of course – he'd taken the producing reins back. Welton went on to start his own ministry.
Ranking Every Prince Album
More From Ultimate Prince