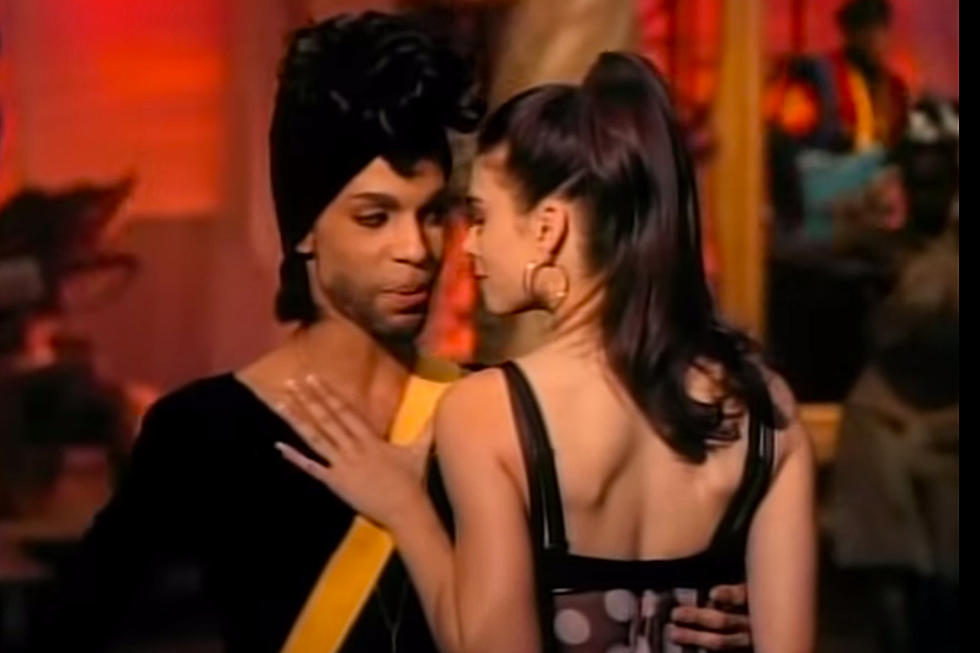 Prince Channels 'Caligula' for Status-Reclaiming 'Gett Off' Video
Warner Bros.
Penthouse should not make feature films. That was immediately clear when the magazine produced Caligula — starring Malcolm McDowell, Helen Mirren and Peter O'Toole — in 1979. The movie was castigated by reviewers, including Roger Ebert, who called it "sickening, utterly worthless, shameful trash."
But Prince was intrigued. According to a press release, Caligula inspired the artist's video for "Gett Off," the launch pad for the artist's 1991 album, Diamonds and Pearls. Many viewed the double-platinum project as Prince's return to relevancy and raunchiness after his previous, more spiritually minded album, Graffiti Bridge.
"The raciness is retrograde," Chris Willman wrote in a Los Angeles Times review of the video, directed by Randee St. Nicholas. "A few years ago, Prince scrapped the infamous 'black album' that celebrated raw lust. … Funny how he has no problem selling pure, unadulterated sex-sans the religious trappings-now that he's gone without a bestseller for so long."
In the "Gett Off" video, Prince casts himself as the roman emperor, his crown a pile of ebony curls, his sword a yellow cloud guitar, his palace Paisley Park Studios. The set is decorated with columns, statues and chaise lounges. Extras in period costumes writhe around with the New Power Generation band in an orgy that commences with Prince's memorable shriek.
Nicknamed "Diamond and Pearl," Lori Elle Werner and Robia (LaMorte) Scott portray Prince's paramours. They both auditioned for the "Cream" video, which was shot before "Gett Off."
"The word was that he was looking for a set of identical twins," Scott said in an interview. "It just so happened that … Lori Elle looked a bit like me. When Prince saw us together, he decided that we could work as the twins."
The women went on to appear in multiple videos from the Diamonds and Pearls era, and joined him on tour.
"He loved us to play up … the nature of our relationship with one another and with Prince," Scott said. "He was so mischievous and loved the speculation about what was going on between the three of us."
"Gett Off" also marked the debut of Prince's new, "GangsterGlam" style. Designer Stacia Lang created the black, high-waisted trousers and velvet top featured in the video.
"Prince loved to be comfortable," Lang said in an interview. "He wanted soft and luxurious fabrics, and I wanted to make sure that he could move. … He was a beautiful dancer."
Prince packaged the "Gett Off" video with four others — "Gett Off (Houstyle)," "Violet the Organ Grinder," "Gangster Glam" and "Clockin' the Jizz"— for release on videocassette. Though essentially remixes of "Gett Off," the other songs have unique personalities, story lines and, of course, visuals.
"Just taking one song and making five different songs, very different from each other but interconnected — it's brilliant how he did it," said director Scott McCullough, who worked on most of the videos. "I was thrilled to be a part of it."
Prince Magazine Ads Through the Years: 1978-2016
More From Ultimate Prince