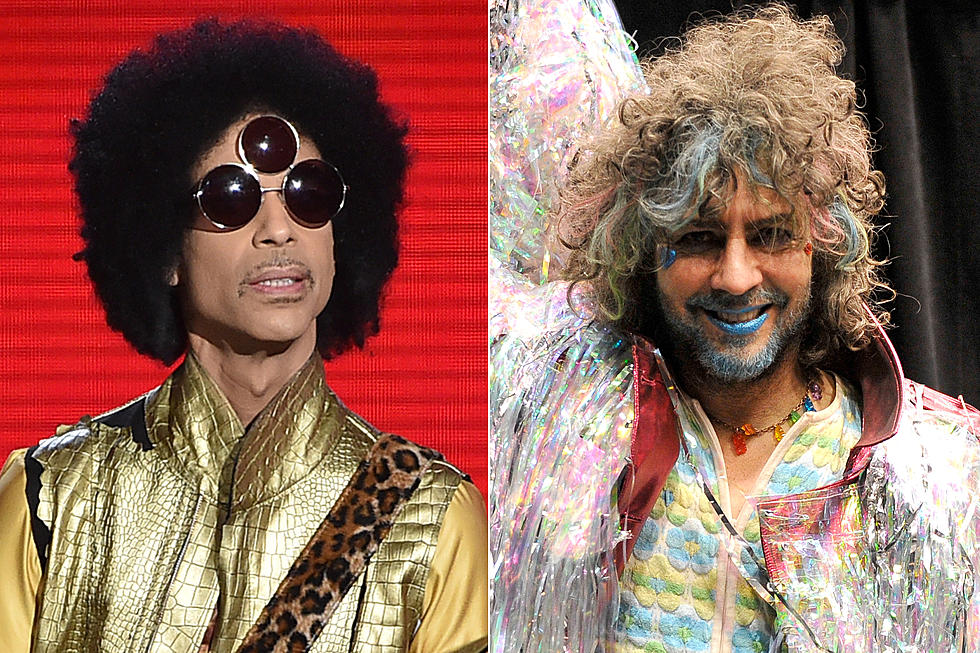 Wayne Coyne Says Prince was 'Too Cool' for the Flaming Lips
Kevin Winter / Stephen Lovekin, Getty Images
Wayne Coyne, frontman of the Flaming Lips, has revealed one of his fondest memories of Prince. Surprisingly, it was a moment in which his band was rejected by the purple one.
"We did a Brit Awards where he was performing," Coyne recalled during an interview with the Independent. "We got the courage to go over and give his bodyguard some of our CDs to give to Prince. We were so thrilled at the possibility of him hearing our music. But at the end of the night, the bodyguard came and found us and handed all the CDs back. He said: 'Prince doesn't want these.' We loved him so much for being too cool for us."
Coyne has long held Prince in high regard, with the Flaming Lips occasionally covering "Purple Rain" in concert. Like many fans, he was in disbelief when Prince suddenly died in 2016.
"He seemed like a Superman," Coyne observed in a 2017 conversation with the Daily Beast. "You never knew how old Prince was. He ran around and looked like he always did, and you never considered that he was addicted to painkillers or anything. Of all of (the celebrity deaths), his was the most shocking. I thought it was a hoax at first."
At a concert shortly after the singer's passing, Coyne called Prince "one of our fellow cosmic warriors who dedicated their lives to songs." The Flaming Lips then dedicated their performance of "Pompeii Am Götterdämmerung" to the late rocker.
The Flaming Lips are about to hit the road in support of their 15th studio album, King's Mouth. The latest LP from psychedelic rock band comes out July 19 and features contributions from another legendary musician, Mick Jones of the Clash.
Watch the Flaming Lips Cover "Purple Rain"
Prince's Bandmates: Where Are They Now?
More From Ultimate Prince