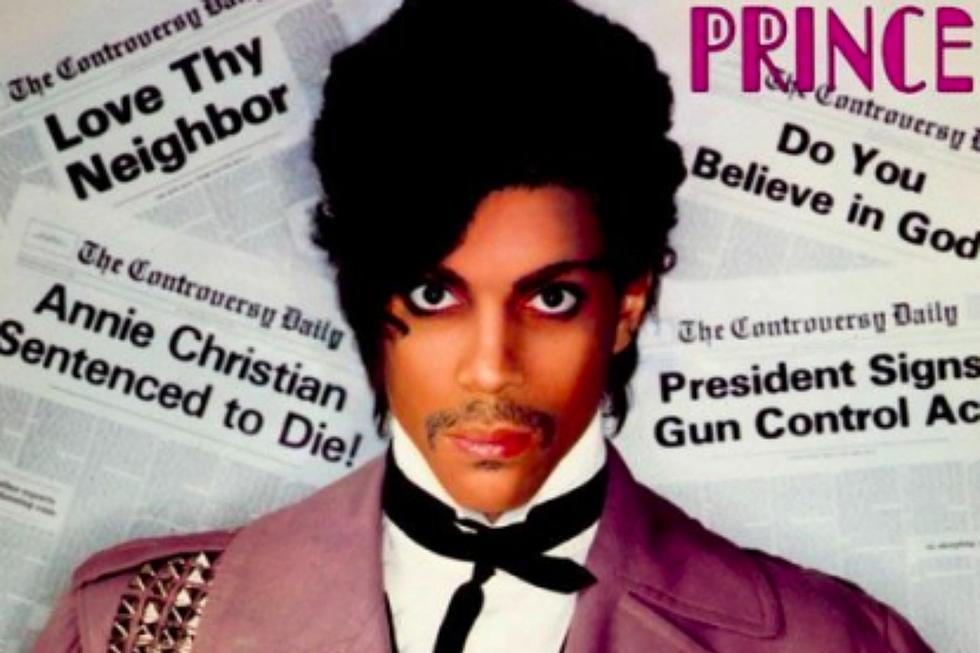 Prince's 'Controversy': A Guide to Every Track
Warner Bros.
Prince's Controversy just one year after his third album, 1980's Dirty Mind. The album peaked at no. 21 on the Billboard 200, faring better on the Top R&B/Hip-Hop Albums chart, landing at No. 3. Controversy eventually became Prince's second album to go platinum, following the success of his self-titled sophomore album in 1979.
It represents an important moment in Prince's vast catalog, as this project showed glimpses of the crossover appeal that would hurtle Prince to stardom just three years later with the massive success of the Purple Rain soundtrack. Like on most of his works, Prince produced, wrote and played every instrument on the album, save for keyboards, drums and vocals on "Jack U Off" which employed the work of Revolution members Lisa Coleman, Dr. Fink and Bobby Z.
Layered with catchy hooks, dance pop synths and funk sensibilities, while remaining exploratory in sound, Controversy serves a bridge between the heavy themes and sonic landscape he began building on Dirty Mind and those that he would perfect on his next album, 1982's quadruple-platinum 1999.
"Controversy" remains one of Prince's signature dance hits. It isn't just the danceable synths, pounding drums, or popping guitars that make this a go-to for any Prince fan. It's the theme of Prince questioning everything around him — people's perceptions of him and themselves, human's tug-of-war with their morality, God ("Do I believe in God? Do I believe in me?") and sexuality ("Am I black or white/Am I straight or gay?"), all wrapped in a comfortable, jamming beat. What makes it so incredible is the questions are just as relevant nearly 40 years later as they were in the early 80s when Prince was grappling with the subjects. The song's production sounds like it easily could've been on subsequent albums, the polished Purple Rain or maybe the dystopian 1999. The album-length version runs for over seven-minutes, with Prince delivering the "Our Father" as the beat drops out, before delivering his own poem a few minutes later: "People call me rude/I wish we all were nude/I wish there were no black and white/I wish there were no rules ..."

After starting "Sexuality" with a few "ahhs!" he urges folks to let their "bodies be free" and embrace their sexuality. In fact, he shouts "we gotta organize" while urging a revolution. As with most Prince tracks where he's obviously broaching something topical; sexuality is merged with other concepts, namely racism. If we can be free sexually, shouldn't that be enough to liberate us from segregation and feeble thoughts of racism too? He's pointing the middle finger at uptight, hypocritical America, and he's wagging it as well, especially when he starts talking toward the end of the track: "Don't let your children watch television until they know how 2 read / Or else all they'll know how 2 do is cuss, fight and breed." Sound advice.

One of Prince's staple ballads, "Do Me Baby" features Prince doing what he does best on his stable of slow jams — displaying a falsetto full of sex and honeyed sensuality, literally screaming in longing, and mimicking the sounds of an orgasm while managing to not sound tacky or gimmicky. Rumor has it longtime Andre Cymone actually wrote the song, though that's not been officially confirmed.

One of the songs that sounds more '80s specific, the breezy "Private Joy" is another dance hit that hints at Prince's crossover sensibilities, in the vein of "Little Red Corvette," which would show up a year later on 1999.  Produced and played entirely by Prince, the track is punctuated by happy claps; it also marks one of the first times Prince experimented with the Linn M-1 drum machine, which would later become one of his trademark sounds.

"Ronnie, Talk to Russia" opens with frantic military-style drums and a wailing guitar. An automatic gun plays in the background of the hyper-happy chorus, making the song enthusiastically eerie. The song is directly politically, pushing President Ronald Reagan to "talk to Russia before it's too late" and the world is blown up.

Back on his funk-dance vibe, "Let's Work" is a sleeper jam from Controversy, about the other kind of working. Prince gets super specific about just how detailed his "work" will be too: "I'd love to turn U on, I'd work U all night long / If I could get U in the raw, I'd make U climb the walls /  Oh yeah nothing can stop us now, I'm gonna show U how / Show U how to work."  Heavy sexual references over a distractingly danceable beat is one of Prince's many charms, and it's definitely at work here (pun intended).

Read More: Prince Stops Working And Gets to Work In "Let's Work"

A play on "Anti-Christ," Prince's "Annie Christian" tackles demonic forces aimed at destroying everything from black kids murdered in Atlanta to John Lennon. An exploratory track musically, the song embodies the Controversy theme Prince explores throughout the album.

Prince makes an offer to do just as the title suggests on this rock and roll track: "If you're looking for somewhere to go/Thought I'd take you to a movie show /Sittin' in the back and I'll jack you off," he promises. And in case there's any confusion, he shouts it at the end of the song too, just to drive home the point.
More From Ultimate Prince