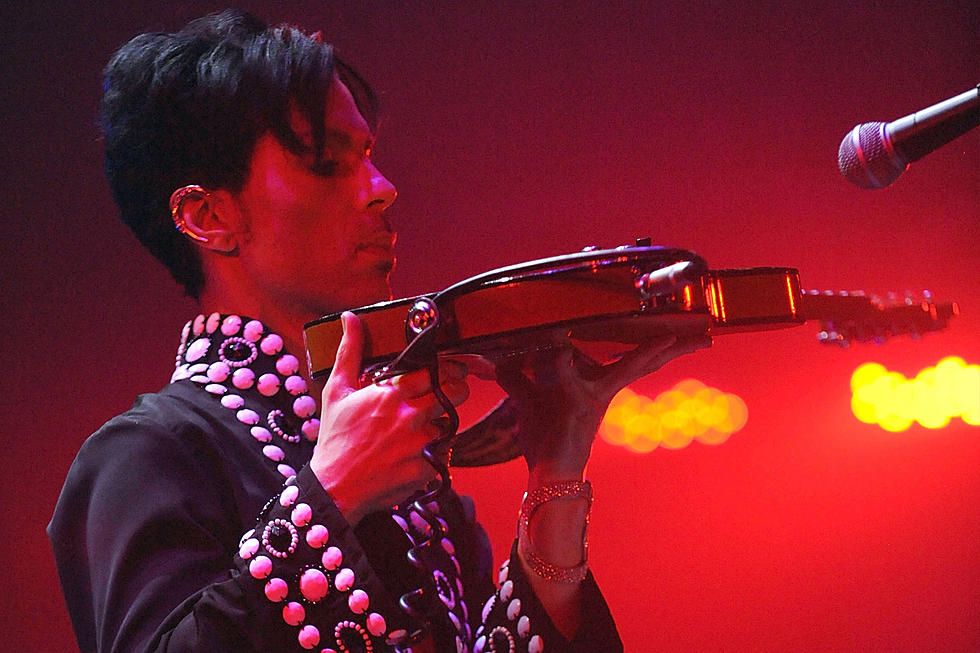 Prince's 'Colonized Mind' Boldly Confronts a World of Disappointment
Kevin Mazur, Getty Images
Prince took plenty of opportunities to ding greedy label execs over the years. As the inventive "Colonized Mind" from 2009's Lotusflow3r showed, however, his concerns about being co-opted went well beyond a hated contract with Warner Bros.
Ever the iconoclast, Prince argued here that evolution might have anti-environmentalism as an unintended consequence and made a sharp point about the isolating qualities of racism, while simultaneously taking down America's binary modern political system. And he was just getting started.
The thematic center point for an album dotted with thoughts of altruism, social justice and independence from conditioned belief systems, "Colonized Mind" arrived during a patented creative outburst, and it refused to give up even an inch of philosophical ground.
All of it is framed by a fascinating, back-and-forth lyrical structure, then taken to another emotional place via one of Prince's most distinctively Jimi Hendrix-inspired turns on the guitar. He was coming off a stint as a touring sideman with singer Tamar Davis' band in 2006, something that no doubt led to a greater focus on the instrument throughout Lotusflow3r.
Originally tracked with New Power Generation members Michael Bland and Sonny Thompson at Paisley Park Studios, "Colonized Mind" emerged from a single night in November 2004 where work began on as many as 12 songs over just three and a half hours, Bland said. That also included "From the Lotus," "Back 2 the Lotus," "Love Like Jazz," "Wall of Berlin," "Guitar" and the title track to 2007's preceding Prince album Planet Earth.
"The time we did those tracks was after a gig I had at the O'Shaughnessy Theater in St. Paul," Bland told Modern Drummer in 2006. "I'm at soundcheck [for a St. Paul, Minn., jazz festival appearance the French saxophonist Michel Portal] and I get a call from his guitar tech: 'Prince wants to know where you and Sonny Thompson are at.'"
As usual, Prince was hard at work in his studio. Bland and Thompson joined him after their gig, not arriving until some time around midnight. That made no difference, of course, inside Prince's all-hours creative space. "There's always a kit there miked up ready to go, and Prince's rig is always on," Bland added. "Prince says, 'Okay, there won't be any mistakes. Just pay attention, and go for it.' And we really just mowed through it, and rolled it out."
Davis later dubbed background vocals on "Colonized Mind," which finds Prince narratively straddling two familiar forms of interaction in the connected, if so often disappointing world. "Upload: the master race idea, genetically disposed to rule the world. Download: a future full of isolated boys and girls," Prince sing/says, in the consciousness-raising style of Gil Scott-Heron. Then: "Upload: a two-party system, the lesser of two dangers, illusion of choice. Download: a veiled form of fascism. Nothing really ever changes. You never had a voice."
Of course, even amid all of these widescreen ideas, some lingering personal issues with the music industry remained.
Long since independent, Prince stayed busy figuring out new ways to get his product to the masses. He contracted with Columbia Records to distribute Planet Earth, after first pairing it with issues of the Sunday Mail in the U.K. Lotusflow3r was subsequently sold through an exclusive agreement with Target. He still held a grudge, though. "Upload: a joint venture record deal," Prince sings on "Colonized Mind." "It's just another way another man can still sleep, while he's sticking you with the bill."
Finally, Prince came upon a solution. In the end, Prince argued, we all need to turn to a higher form of thinking. Without morality, "it's just the blind leading the blind."
Prince continued to ruminate – and expand – on these ideas, years after Lotusflow3r soared to No. 2 on the Billboard chart. "We came to America and got colonized," he told Essence in 2014. "They taught us time. In Africa, time didn't exist. Or at least not this concept of it. See, the only reason people invented time was because of repetition, so that when you did the same things over and over again, you wouldn't go crazy."
As "Colonized Mind" once again confirmed, that was rarely a problem for the always-restless Prince.
More From Ultimate Prince