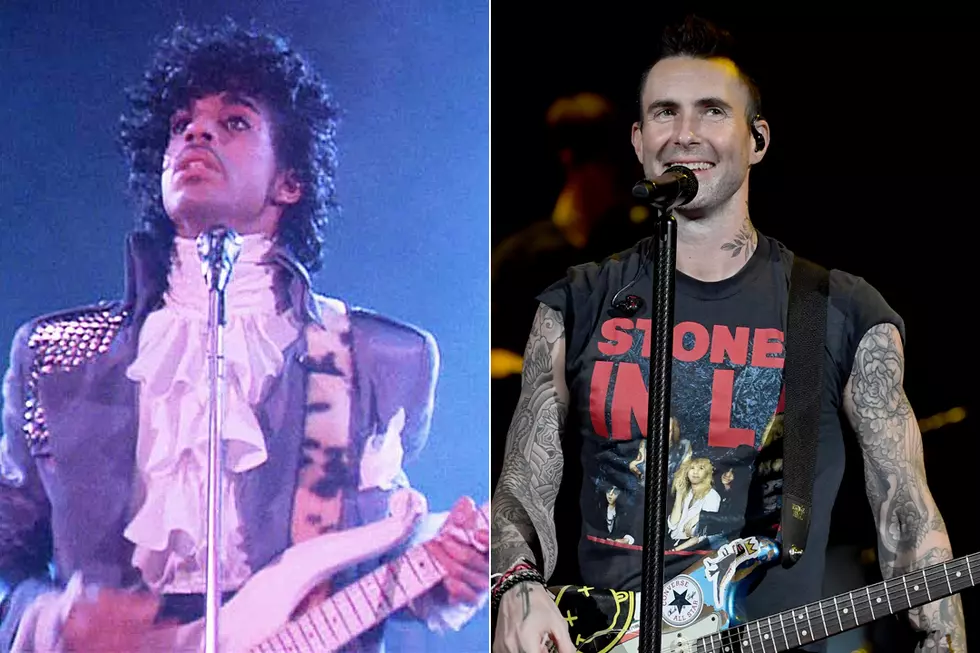 What Prince Really Thought of Adam Levine's 'Purple Rain' Cover
Warner Bros. / Kevin Winter, Getty Images
Adam Levine revealed that Prince didn't think much of his cover of "Purple Rain," performed by the Maroon 5 frontman alongside Train in 2014.
Levine recalled the experience during a September 2020 appearance on The Howard Stern Show - the same program on which he'd delivered the cover six years earlier as part of Stern's on-air birthday party. Through a mutual friend, Levine found out that Prince had heard his rendition.
"I was like, 'What did he say?'" Levine explained, admitting that he'd pressed the friend to reveal Prince's reaction. "She was like, 'He took a long pause and then he said, 'He's learning.'"
Although he experienced pre-stage jitters, Levine felt like he'd done the song justice. "Of my professional career," the singer mused, "I think it was probably the closest thing I've ever had to that out-of-body [experience]. Like, I knew I had the room and I knew I was winning the moment."
After Stern agreed, Levine said that his performance was "a combination of so many things. It was wanting to impress and put on a show for you. And then it was also not wanting to let Prince down because people just don't cover 'Purple Rain.' ... You don't just go out there and sing and play like that. You don't. You don't do it. It's kind of against the law."
You can judge the performance for yourself by watching below.
Levine also paid tribute to another of his idols, Bill Withers, who passed away back in April, via a rendition of "Ain't No Sunshine." Withers joined Maroon 5 in the studio in 2005 for a remake of his "Lovely Day," and Levine remembered the day Withers tracked his part.
"I sat in the studio for just hours and hours and hours and talked [with him]," he said. "We just talked forever and he gave me great advice at a time when I felt like I really needed it. He was just a special person. He really just got to me. He was such a wonderful guy—just a salt of the Earth human being. This dude was so grounded and I was not, at the time."
Prince Magazine Ads Through the Years: 1978-2016
More From Ultimate Prince