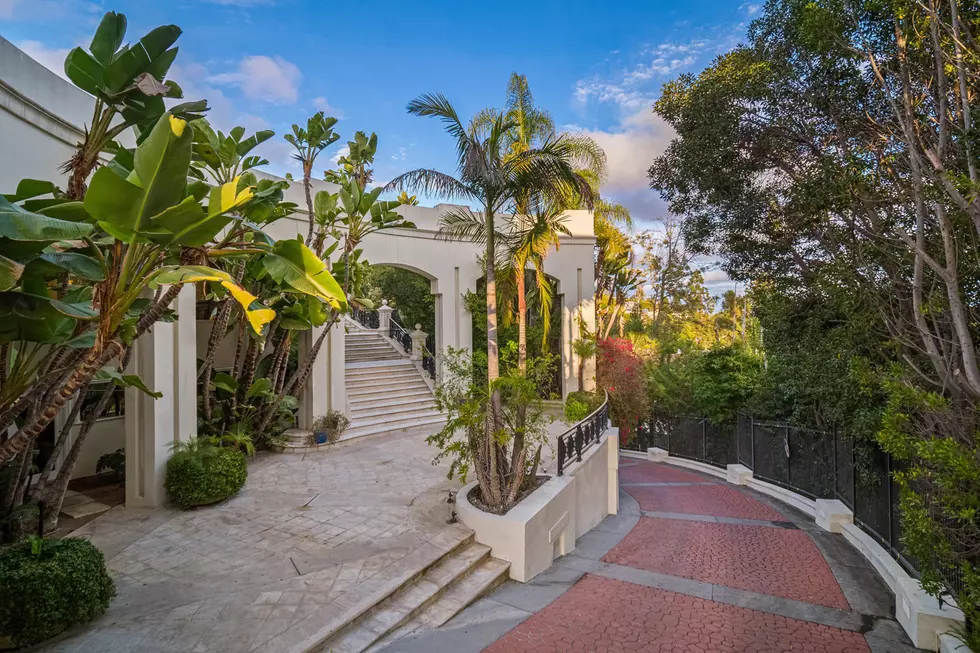 Prince's Infamous '3121' Home on Sale for $30 Million
The Oppenheim Group
Prince's former Los Angeles home has hit the market for $29.995 million.
Located just north of the famous Sunset Strip, the 18,000-plus square foot home boasts the kinds of amenities mere mortals can only dream about -- yet, they all make sense in the world of Prince.
The main house features expansive common spaces, including a grand ballroom and picturesque living room, perfect for entertaining. A wine cellar, gourmet kitchen, two-story gym, solarium and second-story loft are among the home's further highlights.
With 10 bedrooms and 13 bathrooms, there's ample space to share. Built atop the Hollywood Hills, the property boasts stunning panoramic views spanning city to ocean. These can be enjoyed via massive windowing found throughout the home, or form any of the property's patios and outdoor areas.
Speaking of the outdoors, this home offers plenty of exciting features outside the main house. With a water slide, grotto and swim-up bar, the impressive pool area looks more appropriate for a Las Vegas resort than a private residence. A tennis court and four-car garage are also on the grounds.
If all that weren't enough, there's an additional second home on the property. Far fancier than your typical guesthouse, this three-bedroom Tudor style home features its own billiard room, bar, den, pool and spa.
Check out pictures of Prince's former Los Angeles estate below.
Prince famously rented the property in 2005 from NBA star Carlos Boozer. The Purple One made several major changes to the home during his time there, a fact which surprised Boozer considering the homeowner had never been asked for approval.
"I remember [Carlos] calling me [saying], 'Dude, you will never guess. I rode past my house like three times; I had no idea it was my house,'" Boozer's Duke teammate Jay Williams told ESPN.
Among the many renovations, Prince painted the home's outside pillars purple, turned one guest room into a hair salon-slash-massage room and converted the entire interior color scheme to purple and black. The musician also changed the property's gates so that they featured his own distinct symbol.
At one point, Boozer stopped by the home and was shocked by what he saw. "I'm like, 'Wow, so the homie changed my gate to this symbol,' " Boozer recalled in a conversation with The Undefeated.
"'What's going on?,'" the basketball player remembered asking himself. "I spent all this bread to decorate, and now he did all this. I had a really awesome weight room. He turned the weight room into a dance floor. He had a disco ball and a DJ booth, which I thought was pretty awesome since I never had that before either, but I was still like, 'What the hell?' I'm livid. I go into the bedroom and it's a purple, heart-shaped bed with black carpet. At this point, I'm like, 'What the f— happened to my house?'"
Boozer tried to reach out to Prince, but couldn't get a response from the music icon. Frustrated, the NBA star began plotting legal action. "My lawyers were about to prepare the paperwork and everything. I'm about to sue Prince. Who wants to sue Prince? An idol, someone you look up to? Nobody wants to do that. It gets to that point and he calls me. I'm at a game and he's in Japan on tour for that 3121 album. He goes, 'Man, I'm so sorry. I've been on the road the whole time. Don't worry, the house is going to look just like the house when you moved out. When I move out at the end of my lease, it'll look just like I was never there. Trust me.'"
True to his word, the home was back to its original state when Prince moved out. Still, the property's purple period will forever be remembered through the artwork to the singer's 2006 album 3121 (a numeric nickname which had been given to the home).
More From Ultimate Prince