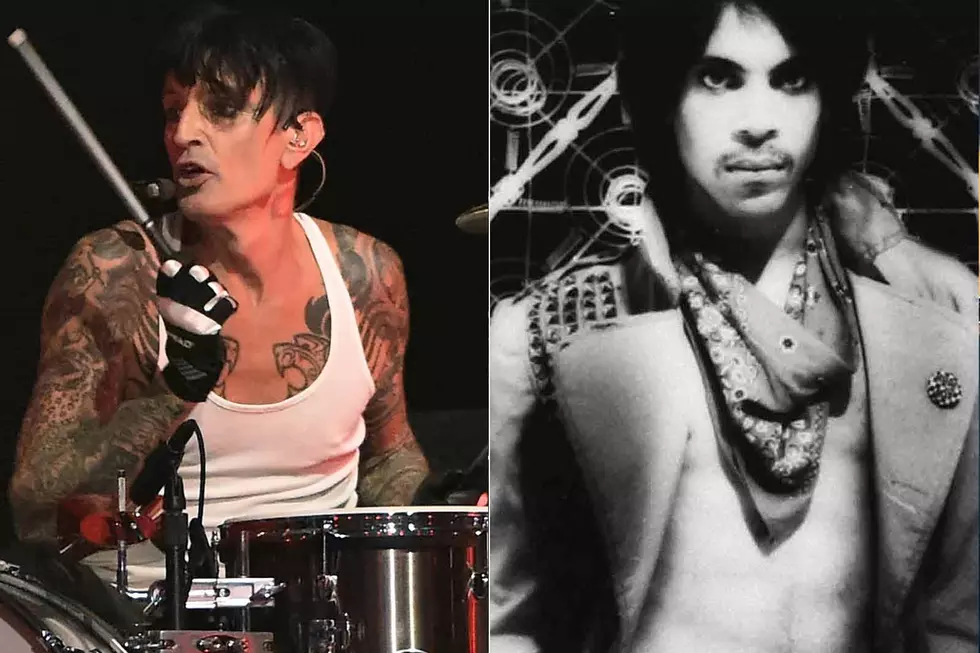 Hear Tommy Lee's Slow, 'Sexy' Take on Prince's 'When You Were Mine'
Ethan Miller, Getty Images / Warner Bros.
Tommy Lee has released his cover of Prince's "When You Were Mine."
The track, which you can hear below, is found on the Motley Crue star's new album Andro. It features Lukas Rossi on vocals, whom Lee met as a contestant on Rock Star: Supernova, the 2006 reality show in which Lee, former Metallica bassist Jason Newsted and former Guns N' Roses guitarist Gilby Clarke looked for a lead singer. Lukas won the competition, and the quartet released an album later that year.
Lee discussed his interpretation of the Dirty Mind track back in June. "I've been a fan of his forever, and this was a really cool opportunity, with my buddy Lukas Rossi to redo a Prince song," he said. "But I took a really kind of a happy, boppy — I mean, the tempo of 'When You Were Mine' is really fast, really uptempo. We slowed it down and made it super dark and sexy, and it is a monster. I can't wait for you guys to hear that one."
Prince and Lee crossed paths on a couple of occasions, with the first being at S.I.R. Rehearsal Studios in Los Angeles. "He was rehearsing next door to Motley Crue," Lee recalled last month, "and everybody was like, 'Prince is here!' I thought, 'I gotta meet him.' So I walk out, and he comes in walking with his security guy. I straight up fan-boy'd out. 'Yo, Prince! My name is Tommy Lee. I don't want to bug you, I just want to say that you're fucking amazing.' And that was it."
"I ran into him another time at a club after that," Lee continued. "And then I started dating his ex-wife [Mayte]. I got a little closer than I thought."
Prince Year by Year in Photographs
More From Ultimate Prince