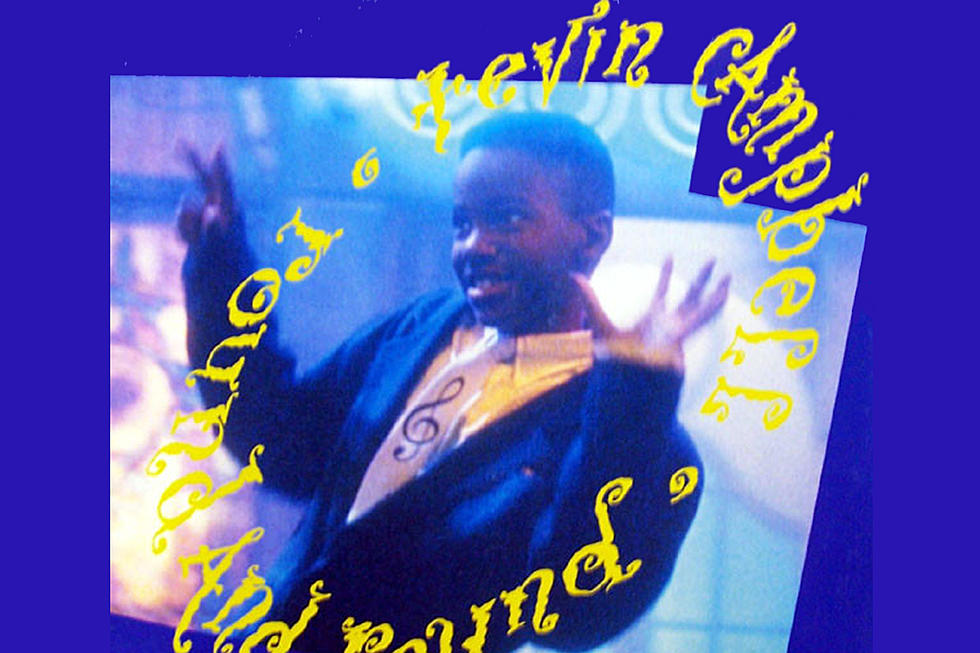 Prince Goes 'Round & Round' with Tevin Campbell
Warner Bros.
By the time 1990 rolled around, Prince had a healthy stable of collaborators and proteges. He'd worked with lingerie-clad girl groups, wailing divas, flamboyant funk outfits and a sea of diverse, talented singers and musicians. He'd never worked with a child act, though.
Tevin Campbell's "Round & Round" changed all of that.
The bouncy tune, written and produced by Prince, became Campbell's first hit under his own name, and launched a working relationship that lasted for several years. "Round & Round" wound up being the second biggest hit to emerge from the Graffiti Bridge soundtrack, peaking at No. 12 on the pop chart and No. 3 on the R&B list.
Campbell was only 13 when "Round & Round" was recorded, and was only a few months removed from his first national exposure, which came courtesy of super-producer Quincy Jones. The Texan wunderkind (who boasted a four-octave range) handled lead vocals on "Tomorrow (A Better You, Better Me)", a re-imagining of a Brothers Johnson tune that landed on Jones' Back on the Block album. Released as Block's third single, "Tomorrow" also became the album's third single to top Billboard's Hot Soul Singles chart, reaching the peak in early 1990.
After being introduced by Warner Bros. exec Benny Medina, Prince reworked "Round & Round" for Campbell, and the song and artist wound up appearing in the film Graffiti Bridge. Campbell later told the Los Angeles Times, "We had so much fun in Minneapolis working on the movie and that song. We hit it off musically. He brings out the best in me. I love his music and the direction he took me in. He's more fun to work with than anybody."
"Round & Round" doesn't give off the vibe of a typical Prince production, with the artist's familiar musical quirks largely absent. The song is definitely of its era, though, featuring a sped-up version of the shuffle groove that figured prominently in then-contemporary hits by the likes of Soul II Soul. "Round & Round" also features a short mid-song rap by Campbell. Prince's prominent background vocals are the only obvious sign that the artist was even involved. The lack of Prince-like elements may have been the result of future dance music legend Junior Vasquez, who did post-production work on the song.
With two hit singles under his belt, Tevin finally released his debut album, T.E.V.I.N., in late 1991. The album was a success, going platinum and spinning off a pair of chart-topping R&B hits. Prince didn't have any direct involvement, although a remix of "Round & Round" led the track list. Campbell later admitted that he wanted Prince to produce his entire debut album, but it didn't work out.
Campbell and Prince reconnected when it was time for the young singer to hit the studio again for his sophomore album. Prince (billed as Paisley Park) delivered four solid songs to Campbell for 1993's I'm Ready: the politically charged tunes "Uncle Sam" and "Paris 1897530" and the sensual jams "The Halls of Desire" and "Shhh…" The latter song became a Top 10 smash on R&B radio despite never being officially released as a single. It helped propel I'm Ready to multi-platinum status and compelled Prince to reclaim the song for himself on 1995's The Gold Experience. Prince and Campbell didn't work together after I'm Ready, in light of the elder artist's ongoing estrangement from Warner Bros., to which Campbell remained signed.
Watch Tevin Campbell Perform 'Round & Round'
Unlike many of the songs he wrote and produced for other artists, "Round & Round" never became a live staple, and Prince didn't try to reclaim it beyond a couple of live performances in 1991. Campbell, meanwhile, released two more albums on Warner Bros. Although the albums gained critical favor, neither 1996's Back to the World or 1999's self-titled effort sold well commercially, and he parted ways with Warner Bros. at the start of the 21st century.
When Prince passed away in 2016, Campbell tweeted, "My heart is so heavy but comforted knowing he is at peace now. The memories and the music will live on."
Prince Bandmates: Where Are They Now?
More From Ultimate Prince