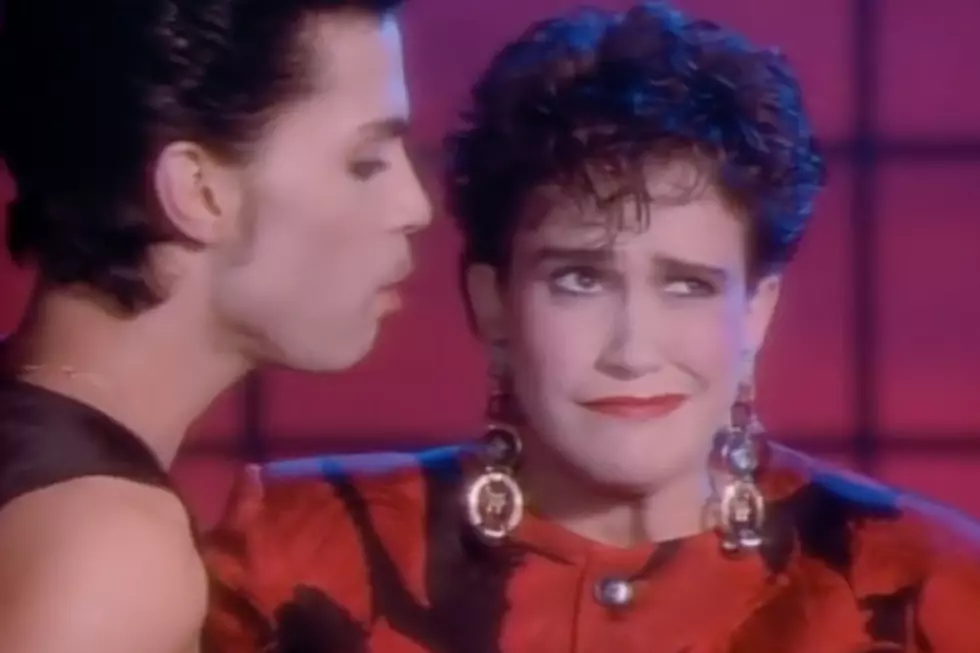 Prince Shares the Mic for the First Time on 'I Wonder U'
Warner Bros.
While Wendy Melvoin is the first singer to make it to the podium, both her musical partner Lisa Coleman and Jill Jones each sang solo leads on "Our Destiny" the year before, though that track was kept in the vault until Coleman's version landed on the Purple Rain Deluxe Expanded Edition in the summer of 2017. As "I Wonder U" steadily evolved, it's a wonder that Wendy's vocal was actually heard on the track at all.
When the song was first recorded on April 17, 1985, the world was still on a Purple Rain high, seemingly unaware of the abrupt musical U-turn Prince was about to make: Around the World in a Day would be released five days later on April 22. According to PrinceVault, Prince laid down the drum sequence for "Christopher Tracy's Parade" (then titled "Little Girl Wendy's Parade"), "New Position", "I Wonder U", and "Under the Cherry Moon" all in one take. The first mix of "I Wonder U' featured Prince's vocals more prominently than Wendy's, paired with a sparse mix of drums and the song's signature synth chord.
Prince then sent the demo tape to composer Clare Fischer, who had done arrangements for the Jacksons, DeBarge and Atlantic Starr before working on Prince's side project, the Family. Despite being a central figure in Prince's music for the decade to come, the two never met in person and Prince refused to even see a photo of the Fischer's face for fear of jinxing their collaborative chemistry. Author Matt Thorne sheds a lot of light on this unusual partnership in his book Prince: The Man and His Music. Clare's son Brent tells Thorne that, "for some reason, something in (Prince's) schedule precluded him from actually being there when the (initial recording session) date came up, so we recorded on our own and sent the tapes back to Chanhassen." Prince was so thrilled with the result he phoned Clare and said, "If I'd been there, I might have interfered. I like what you did so much, I will always stay away from the recording sessions."
Fischer, whose training and influence is equally rooted in jazz and classical music, originally put an entire orchestra on "I Wonder U." The full take, featuring joyous bursts of low bass clarinets and a tuba, sounds straight out of the "Wild Signals" section of the Close Encounters of the Third Kind soundtrack where humans and aliens converse via musical tones and song. As the Fischers were wrapping up the orchestral recording, they received a note from Prince's assistant asking for just a family of flutes. As Brent recalls in Thorne's book, "So my dad gave him the best family of flutes he could ever have." Just for fun, they played back both versions of the song at the same time and discovered the orchestral and flute family versions of the song entwined nicely.
Hear Prince and the Revolution Perform "I Wonder U"
The Fischers once presented an audience with three versions of "I Wonder U" around the 41-minute mark of a 2005 lecture at Red Bull Music Academy. When asked if they mixed the tracks themselves, Brent replied, "We mix as a guide, just enough for (Prince) to know which orchestral colors were important to my father."
Prince wound up using elements of both versions in his final mix, along with a Beatles-esque splatter of laughing crowd sound effects. He did, however, decide to strip his vocals out of the mix, pushing Wendy into the spotlight. Just like stripping the bass line out of "Kiss" on the same album, Prince's "less is more" approach certainly worked. Today, the song – in all of its one minute and 40 seconds of glory – remains a fan favorite. Clare Fischer passed away in 2012.
More From Ultimate Prince