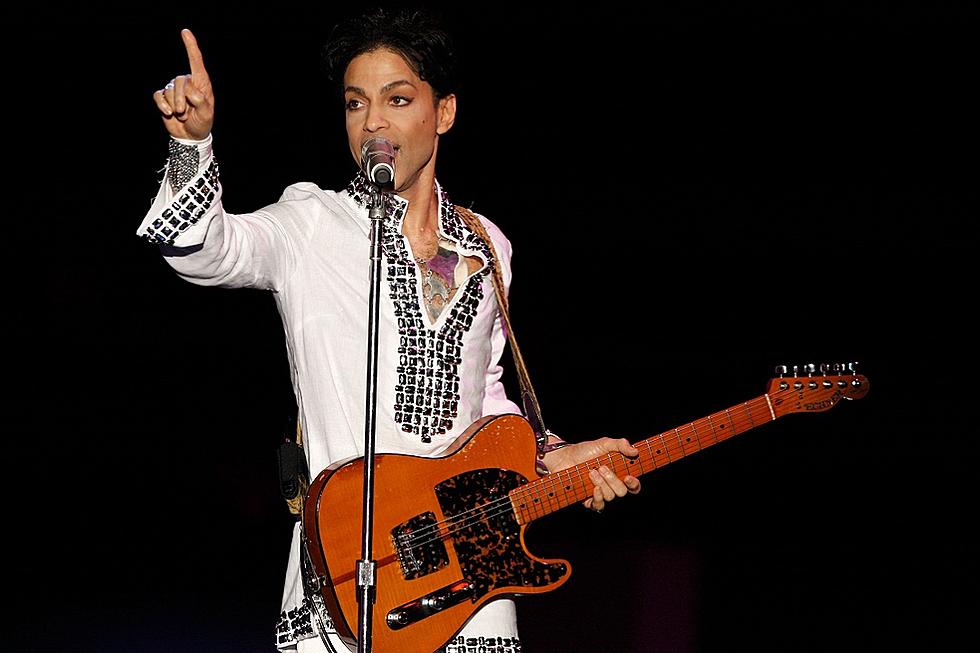 One Year Later: Prince's Shocking Death
Kevin Winter, Getty Images
On April 21, 2016, the body of Prince Rogers Nelson was discovered in an elevator at his Paisley Park complex in Minnesota. He was the victim of an accidental overdose of the drug fentanyl, a synthetic opioid pain medication. Prince was 57.
The multi-talented musician was a star for more than four decades, earning his greatest fame in the '80s as he crafted countless rock, pop and R&B hits, starred in feature films and dominated MTV. His androgynous look made him a style icon – blending masculinity and femininity with his persona in the same way he blended different genres in his music. As such, his appeal was massive. Prince reached fans of soul, rock, pop and funk, breaking down artificial barriers between musical styles and between what tunes white kids and black kids were "supposed" to listen to.
Even as Prince's popularity dipped in the '90s (not long after he infamously temporarily changed his name to a symbol), he remained prolific, slowly easing into his status as an elder statesman – gaining lifetime achievement awards and getting inducted into the Rock and Roll Hall of Fame. But he was still an incendiary concert performer, capable of enrapturing an entire arena with a guitar solo, a soulful vocal or a couple tightly wound dance moves. Prince's 2007 Super Bowl halftime show instantly became mythical. His passion for music – all music – was infectious.
Although Prince was past his commercial peak when he died, he was still relatively young and increasingly active as a musician. In the two years before his overdose, he had released four albums, was planning on putting together a deluxe anniversary edition of his best-known LP Purple Rain and was touring the world (Prince's final show was in Atlanta just a few days before his death). Just a month before the overdose, he announced he was writing his memoirs, to be titled The Beautiful Ones – after a Purple Rain track.
But by April 2016, Prince was not well. Announcing he was suffering from the flu, he postponed a pair of concerts for a week later – the Atlanta shows that would be his last – and performed anyway even though he hadn't recovered. While flying back to Minneapolis, he became unresponsive on the plane, which made an emergency landing in Moline, Illi., for Prince to receive treatment at a hospital. Doctors discovered the singer's opioid addiction and treated him with a medication intended to block their effects. Prince quickly returned home, against the wishes of the medical staff.
In the days before his death, Prince was seen out and about in Chanhassen, Minnesota – where he had established Paisley Park, 20-some miles southwest of the Twin Cities. Residents witnessed him bicycling and fans saw him at a record store or at a performance by Lizz Wright. Prince said he was feeling fine, but it was later revealed that members of his staff had been in contact with Dr. Howard Kornfeld, a specialist in treating people addicted to pain medicine such as opioids.
The California physician was set to meet with Prince on April 22. But it was his son, having flown in the day before to begin the treatment, who called authorities about finding Prince dead in the Paisley Park elevator. A little more than a month later, the county examiner's office announced the musician had perished as a result of his addiction. There was no evidence of suicide or anything suspicious.
There was also no will, a fact that would complicate the handling of Prince's estate for his loved ones. Because the star had no living children (his son, Ahmir, had died a week after his birth in 1996), Prince's earthly possessions passed to his sister, Tyka, and his five half-siblings Sharon, Norrine, John, Alfred and Omarr. It became even messier when more than two dozen people filed to be included among Prince's heirs, although most of these cases (including a woman who claimed she secretly married him in 2002, but could provide no proof) were thrown out of court.
Before Prince's loved ones could sort out the tangled financial necessities, they were grieving. So were Prince's fans. Upon hearing of his death, MTV pre-empted programming to show his many famous videos as well as the film Purple Rain. Saturday Night Live quickly presented an episode dedicated to his many performances on the show (and some Prince-related skits) over the years. His Minnesota fans created impromptu shrines on the fences of Paisley Park and near the outside walls of Minneapolis's First Avenue club, where some of Purple Rain had been shot. Various locations around the world were lit up in purple lights in tribute. Prince's influence and legacy were even honored by the United States Senate and President Barack Obama.
"Today, the world lost a creative icon," President Obama said in a statement. "Few artists have influenced the sound and trajectory of popular music more distinctly, or touched quite so many people with their talent."
Meanwhile, Prince's music became as popular as it ever had been. In the week following his passing, his records sold almost 4.5 million copies in the U.S. Prince became the first artist to have five albums appear simultaneously in the Billboard Top 200, with three hits collections as well as Purple Rain and 1999 all landing near the top.
And, of course, musicians from Bruno Mars to Bruce Springsteen honored Prince's life and music with live and televised tributes. Madonna sang "Nothing Compares 2 U" and "Purple Rain" at the Billboard Awards in May. Longtime collaborator Sheila E., Erykah Badu and the Roots paid tribute at the BET Awards in June. Stevie Wonder and Chaka Khan led an October tribute show in St. Paul. Morris Day and the Time and Mars celebrated his legacy at the 2017 Grammys. Prince's friend Lenny Kravitz honored the musician at the 2017 Rock and Roll Hall of Fame induction ceremony.
And only a few days after Prince's death, the musician's early '80s backing band, the Revolution, announced they would be reuniting, which led to a few trio shows and a short 2017 tour, including a run of appearances from April 20-23 at Paisley Park for an event called Prince's Celebration 2017. The four-day event will commemorate the anniversary of Prince's passing with panel discussions, presentations and live performances from Prince's friends and backing bands over the years – including the Revolution, Morris Day and the Time, the New Power Generation and 3rdeyegirl.
Celebration 2017 is being held at Prince's mansion because Paisley Park was opened for tours a little less than six months after the star's death. Although Prince didn't leave behind a will, he had reportedly documented wishes (including specific plans) to allow fans to visit his home, studio and performance space – much in the style of Elvis Presley's Graceland mansion. It was only fitting that Graceland Holdings (which runs tours of Elvis's famous home in Memphis) was hired by Prince's estate to present tours of Paisley Park. The family members approved of the plans, not only to honor their deceased sibling's wishes, but also to help pay for the lavish facilities.
"We don't want the place to be known as something that's a memory or is dead," Omarr Baker, Prince's half-brother, told Rolling Stone. "As long as Paisley Park is kept alive, my brother is kept alive."
And visitors to Paisley Park can actually pay their respects to Prince, who was cremated. His remains are located in the building's atrium, placed in an urn, intricately designed to look like his home, and adorned with the likeness of his purple piano and his "love" symbol.
Paisley Park is also home to Prince's famous vault (not a stop on the tour, reportedly), which the artist always claimed contained stacks and stacks of never-released tracks and unseen footage. In the year since Prince's death, his estate has begun to present some of these rarities to the public. First entering into a deal with Universal Music, then re-entering into deals with streaming services such as Apple Music and Spotify, the estate signed off on the best-of compilation 4Ever. Released in November 2016, the 40-track set featured the never-officially released "Moonbeam Levels" song from 1982. There are plans to release a collector's edition of Purple Rain in June, with two discs of bonus audio and two concert films. Earlier this month, a six-song EP entitled Deliverance was released, although a legal battle over ownership and control of those masters quickly emerged.
Given the amount of music filling Prince's vaults, fans could be seeing new releases from the legendary artist every year for the foreseeable future. Even after death, Prince might stay incredibly prolific.
 
 
How the World Mourned Prince's Death
More From Ultimate Prince